FE 450 MOUNTED FRENCHMAN RETURNS TO FORM IN STYLE AT SPANISH GP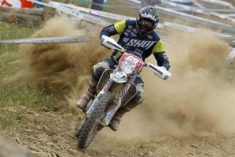 Claiming a double EnduroGP winning result at round six of the 2016 Enduro World Championship Mathias Bellino headed a highly positive GP of Spain for the Rockstar Energy Husqvarna Factory Racing team.
Returning to his winning ways with two well-deserved EnduroGP and Enduro 2 wining results Mathias Bellino enjoyed a hugely rewarding GP of Spain. Working hard ahead of the event he made an impressive start by winning the Friday night super test. Carrying his speed into the first full day of competition he then won each of the three special tests during the opening lap to establish himself at the head of the results. At the end of the day he placed 25 seconds ahead of his closest challenger.
Day two saw more of the same from Bellino, who again turned in an impressive opening lap. Producing a mistake free ride he comfortably topped the overall EnduroGP and Enduro 2 class results to complete a near perfect weekend.
Returning to form and securing a double runner-up result in the Enduro 1 class Danny McCanney enjoyed his best results of the 2016 season to date. Topping the Friday night super test in the E1 class, the Manxman went on to claim a well-deserved second place result on day one. Day two brought more good form from McCanney, who placed just 25 seconds behind class winner Nathan Watson.
Pascal Rauchenecker's Spanish GP got off to a frustrating start when a trackside banner became tangled in his rear wheel early on day one. Losing more than one-minute he battled his way through the day to finish ninth. Day two brought a welcomed improvement in fortunes for the Austrian. Fast and consistent throughout the day he eventually placed alongside team-mate McCanney on the podium in third.
Returning to Enduro World Championship competition after missing the GP of Sweden with a knee injury Josep Garcia secured two third place results in the Enduro Junior class. Unable to do much more than remain in bed for the last two weeks due to his injured knee, Garcia rode well throughout each day of competition to finish on the podium on both days.
In the Women's class Husqvarna supported Jane Daniels finished on the podium in third on both days and now sits second in the Women's championship standings ahead of the final round of the series in France in early September.
The Rockstar Energy Husqvarna Factory Racing team will now head to Italy for round seven of the 2016 Enduro World Championship on July 16-17.
Mathias Bellino: "It's great to get back to riding well and to return to the top of the podium. After the races in Scandinavia I really worked hard to improve in several areas and I feel like I rode well this weekend. Even if it was dry it was still a tough race, but very different conditions compared to Finland and Sweden. I really felt good on my bike. I took some great championship points and generally had a really good weekend. Winning the super test and then each of the two days, it feels like it's been a perfect weekend. Now I'm looking forward to the Italian GP, where I hope I can continue this form."
Danny McCanney: "I don't normally do so well on the super test so to win it here in Spain was a real surprise. It set me up well for the weekend ahead. I didn't feel the best on the first lap on day one but as the day went on I felt better and better. I enjoyed the day. I pushed hard on the extreme and motocross tests but just wasn't quick enough. The most important thing for me was that I closed the gap to Watson and Remes. Day two was good, I felt strong during the first lap and had a decent enough enduro test but after that I just felt drained. I didn't have a great third lap but I gave everything I could and got second, which is great."
Pascal Rauchenecker: "It's been a mixed weekend for me. I started pretty well in the first enduro test on day one but then on the extreme test I lost more than one-minute because I got a trackside banner stuck in my rear wheel. I tried to push as hard as I could after that but the time was gone and it was always going to be very difficult to get it back. I finally ended up ninth, so it wasn't the best. The second day was much better. I felt better and made some good times. Eventually, with the bad luck of Eero Remes, I managed to get on the podium, which was great."
Josep Garcia: "The weekend was good for me, especially considering that I spent two weeks in bed before coming here trying to rest my injured knee. I felt good, and importantly my knee was good. But because I did nothing for two weeks I struggled with my fitness a little. With more time to train before the Italian GP I hope I can be stronger. But I'm pleased with two podium results."
Results – 2016 FIM Enduro World Championship, Round 6
Day 1
EnduroGP
1. Mathias Bellino (Husqvarna) 1:06:47.54; 2. Alex Salvini (Beta) 1:07:12.87; 3. Manuel Monni (TM) 1:07:14.29; 4. Nathan Watson (KTM) 1:07:19.73; 5. Matthew Phillips (Sherco) 1:07:27.48… 12. Daniel McCanney (Husqvarna) 1:07:58.30… 27. Pascal Rauchenecker (Husqvarna) 1:10:11.57
Enduro 1
1. Nathan Watson (KTM) 1:07:19.73; 2. Daniel McCanney (Husqvarna) 1:07:58.30; 3. Eero Remes (TM) 1:08:12.03; 4. Victor Guerrero (KTM) 1:08:34.47; 5. Rudy Moroni (KTM) 1:09:33.18… 9. Pascal Rauchenecker (Husqvarna) 1:10:11.57
Enduro 2
1. Mathias Bellino (Husqvarna) 1:06:47.54; 2. Alex Salvini (Beta) 1:07:12.87; 3. Matthew Phillips (Sherco) 1:07:27.48; 4. Oriol Mena (Honda) 1:07:27.91; 5. Loic Larrieu (Yamaha) 1:07:38.63
Enduro Junior
1. Giacomo Redondi (Honda) 1:06:55.74; 2. Albin Elowson (Husqvarna) 1:08:09.49; 3. Josep Garcia (Husqvarna) 1:08:20.18; 4. Henric Stigell (TM) 1:09:19.51; 5. Anthony Geslin (Yamaha) 1:09:50.85… 8. Tosha Scareina (Husqvarna) 1:10:34.90… 10. Emil Pohjola (Husqvarna) 1:10:59.09… 15. Max Vial (Husqvarna) 1:14:56.70
Day 2
EnduroGP
1. Mathias Bellino (Husqvarna) 1:04:55.26; 2. Loic Larrieu (Yamaha) 1:05:21.80; 3. Nahtan Watson (KTM) 1:05:27.21; 4. Alex Salvini (Beta) 1:05:28.74; 5. Matthew Phillips (Sherco) 1:05:40.40… 10. Daniel McCanney (Husqvarna) 1:05:52.69… 12. Pascal Rauchenecker (Husqvarna) 1:06:11.53
Enduro 1
1. Nathan Watson (KTM) 1:05:27.21; 2. Daniel McCanney (Husqvarna) 1:05:52.69; 3. Pascal Rauchenecker (Husqvarna) 1:06:11.53; 4. Victor Guerrero (KTM) 1:07:09.69; 5. Ivan Cervantes (KTM) 1:07:42.26
Enduro 2
1. Mathias Bellino (Husqvarna) 1:04:55.26; 2. Loic Larrieu (Yamaha) 1:05:21.80; 3. Alex Salvini (Beta) 1:05:28.74; 4. Matthew Phillips (Sherco) 1:05:40.40; 5. Taylor Robert (KTM) 1:05:49.69
Enduro Junior
1. Giacomo Redondi (Honda) 1:06:21.78; 2. Albin Elowson (Husqvarna) 1:06:52.85; 3. Josep Garcia (Husqvarna) 1:07:26.04; 4. Matteo Cavallo (Beta) 1:08:15.07; 5. Henric Stigell (TM) 1:08:22.73… 7. Emil Pohjola (Husqvarna) 1:09:02.80; 8. Tosha Scareina (Husqvarna) 1:09:05.18
Championship Standings (After Round Six)
EnduroGP
1. Matthew Phillips (Sherco) 181pts; 2. Eero Remes (TM) 153pts; 3. Steve Holcombe (Beta) 148pts; 4. Mathias Bellino (Husqvarna) 146pts; 5. Nathan Watson (KTM) 142pts; … 13. Daniel McCanney (Husqvarna) 24pts; 18. Pascal Rauchenecker (Husqvarna) 16pts
Enduro 1
1. Eero Remes (TM) 212pts; 2. Nathan Watson (KTM) 207pts; 3. Daniel McCanney (Husqvarna) 145pts; 4. Ivan Cervantes (KTM) 123pts; 5. Pascal Rauchenecker (Husqvarna) 117pts
Enduro 2
1. Matthew Phillips (Sherco) 217pts; 2. Mathias Bellino (Husqvarna) 184pts; 3. Taylor Robert (KTM) 166pts; 4. Loic Larrieu (Yamaha) 165pts; 5. Alex Salvini (Beta) 152pts
Enduro Junior
1. Giacomo Redondi (Honda) 240pts; 2. Albin Elowson (Husqvarna) 170pts; 3. Diogo Ventura (Gas Gas) 134pts; 4. Henric Stigell (TM) 127; 5. Josep Garcia (Husqvarna) 123pts… 10. Emil Pohjola (Husqvarna) 56pts… 18. Tosha Schareina (Husqvarna) 16pts… 28. Mika Tamminen (Husqvarna) 7pts; 29. Jordi Quer Molgo (Husqvarna) 6pts; 30. Max Vial (Husqvarna) 6pts