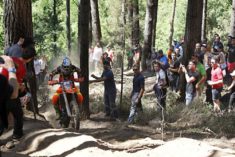 With four Grand Prix in just six weeks the period of late June and early July is very trying for EnduroGP and its stars! And this latest GP AMV Seguros of Euskadi has once again been a tough and tiring weekend for the riders. This latest GP, and subsequent shake-up of the standings, clearly marks a turning point in the season.
Great Organisation, Once Again
This season, the candidates for the honorary title of "Best Organization of the Year" are numerous! After the sixth race weekend, the Moto Club Aiala just joined the HEMK (Finland) and MS Göta (Sweden) in the running for the year's best organization. Although the paddock was very small and slightly 'fragmented' in Gordexola, Imanol TARRAMONA and his team did a great job to ensure the "Enduro Village" was lively and welcoming from morning to night. Throw in three beautiful special tests, which were in keeping with the spirit of the Moto Club Aiala (Gordexola),  we experienced yet another excellent Grand Prix held in a festive atmosphere and attended by 15,000 spectators.
Constructors' Race
It's time to take a look at the constructors' standings. Whilst the Sherco rider Matthew PHILLIPS (AUS) dominates theEnduroGP category it is actually Beta (193pts) who is leading the constructors… with their three riders all running at the top of their game (HOLCOMBE, AUBERT, SALVINI), the Italian firm has amassed a great points haul and they are now 12 points ahead of Sherco (181pts) who only have one representative at the top level: PHILLIPS. In third place we find TM(MONNI, REMES) with 175pts. KTM (161pts) and Husqvarna (147pts), currently sit in 4th and 5th respectively, trying their best to close down on the Top 3. Yamaha, led by Loïc LARRIEU (F), have 117 points in 6th position…
Press Conference 
Clearly, M.C. Aiala was keen to put on a big show for this GP AMV Seguros Spanish round. Indeed, the club held a press conference on Thursday afternoon outside the world-famous Guggenheim Museum in Bilbao. The conference brought together media personnel, including the Basque TV channel (ETB), and a radio station was broadcasting the event live. Club boss Imanol TARRAMONA and the mayors of Zalla, Gordexola and Guenes (the host towns of each special test) got together with Spanish stars Ivan CERVANTES (KTM) and Laia SANZ (KTM), as well as Yamaha team manager and former rider Marc BOURGEOIS (F), Basque rally rider Txomin ARANA, and Bastien BLANCHARD representing ABC Communication. A wonderful introduction to the event, which has made a big impression on this part of the Basque Country. It's a shame some riders, such as Eero REMES, fail to value the role of the press and media in these events, preferring to refuse attendance to such occasions. 
EDMONDSON Flying
With the rule of X-4 – where the four worst results are deleted for the youngest riders in the series, the FIM Youth Cup 125cc has taken a new exciting turn in 2016… Jack EDMONDSON (GB – KTM), who has been unbeaten since Finland has taken over the lead of the championship with 157 points, ahead of Jean-Baptiste NICOLOT (F – Yamaha) on 133pts, andErik APPELQVIST (S – Yamaha), 126pts. APPELQVIST unfortunately, will now have to sit out some races with a broken arm. But after an unlucky Sweden and Spain, NICOLOT still has a slim chance to get the better of EDMONDSON. In order to do this, the Frenchman will have to create the perfect end to the season, and hope that the Brit makes some mistakes.
REMES and HOLCOMBE, Rotten Luck
While he was in a position to take valuable points over Matthew PHILLIPS on Sunday in EnduroGP, Eero REMES (SF – TM) saw his bike give up in the very last test of the weekend. An engine failure that had a huge impact on the standings of both the EnduroGP championship and the E1 championship. Indeed, the reigning E1 champion now finds himself 28 points behind PHILLIPS in EnduroGP, while Nathan WATSON (GB – KTM) closes right up on him (now just 5 points behindREMES) in E1. With the problems of Steve HOLCOMBE on Saturday (broken gear selector), PHILLIPS  was the only one of the top three who managed to score points on every day… could this be the Aussie's year?
Passion
Apart from the usual hoards in France and Italy, it is long time since we have seen an Enduro with such supportive and numerous fans. Some interesting 'spectacular points' around the lap and a couple of tight Time Controls gave some intensity to an already great GP, meaning the excitement was not restricted to the special tests alone. Eager to preserve their reputation after ten years of organizing Extreme races, the Moto Club Aiala put together a harsh and challenging route, surrounded by beautiful scenery, which proved very popular with spectators and the media alike.
Visit
It is not only in Finland and Sweden where legends of our sport can be spotted… in Gordexola too! Coming to support his wife Rosa ROMERO (KTM) who participated in the Women's category, the multiple Dakar winner Nani ROMA gave us the honor of his presence during the weekend, and he even handed over the golden plate to EnduroGP leader Matthew PHILLIPS on the podium on Saturday evening. SuperEnduro and Hard Enduro rider, Alfredo GOMEZ (ESP – KTM) was also present to meet up with his friends, and to offer support to Mr. VILADOMS (President of RFME, Spanish Motorcycling Federation) and Fran RICO, organizer of the 2016 SuperEnduro final in Madrid.
Much more than just a GP…
The local club also organized a raffle, with some superb prizes including a motorcycle to win (A TM, unfortunately on the same day that REMES broke his engine!), and many other top prizes. Food and merchandising stands as well as welcoming bars and restaurants serving food and drink day and night, perfectly complimented the organization of the race. Specific parking (officials, motorcycles, media…), knowledgeable and animated commentary and sound systems on all the special tests, a live music concert, and VIP visits… the paddock of Grand Prix AMV Seguros of Euskadi was more than a sporting event! A great example for other events to follow…