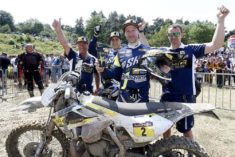 BRITISH STAR CLAIMS FIFTH CAREER VICTORY IN ROMANIA
Rockstar Energy Husqvarna Factory Racing's Graham Jarvis is the clear and decisive winner of the 13th edition of Red Bull Romaniacs, securing a record breaking fifth career victory in the world's toughest Hard Enduro Rally. Teammate Mario Roman enjoyed an incredibly successful debut participation to claim fourth overall.
Determined to build on his dominating performance in last month's Erzberg Hare Scramble, Jarvis began the event with only victory on his mind. Getting off to a great start, the Husqvarna rider ended the Sibiu City Prologue in third position.
However, his third position saw him lead the field of 470 riders at the start of the opening day. Unable to find his rhythm early on, he was uncharacteristically off the pace as his closest rivals hunted him down. Ending the opening day in fourth and 10 minutes behind race leader Alfredo Gomez, Jarvis went on the attack on day two.
Charging his way to the front of the field, he pulled clear to claim the win. Backing that ride up with another victory on day three, he entered the final day of racing with a 27-minute advantage. With victory within his grasp, he eased his way to the finish line and into the record books as a five-time Romaniacs champion.
Making his debut ride at Romaniacs, Jarvis's Rockstar Energy Husqvarna teammate Mario Roman impressed all as he proved himself as a very fast learner in the art of GPS navigation.
Placing fifth at the end of the first off-road day, Roman then secured second overall on off-road day two. Another top three result saw him start the final day of racing locked in a battle for the third step on the podium. Frustratingly, a number of small mistakes saw him lose the position, ending the event in a well-deserved fourth overall.
Graham Jarvis: "It's an awesome feeling to win my fifth Romaniacs title. No one else has ever done that before so this is quite special considering it's been three years since my last victory here. Like always it's been a tough week of racing. I didn't get it together on the first off road day and dropped down the order a bit. I knew I needed to regroup quickly and winning days two and three pretty much helped me secure the win. Finally a big thanks to Husqvarna and Damien my mechanic for their support, it's been a big team effort to get this winning result."
Mario Roman: "Fourth overall in my very first Romaniacs is a fantastic result for me. My goal coming here was to learn as much as possible and ensure I made it to the finish. We raced for about eight hours each day and that was hard to adapt to. My best result was on the second off-road day when I finished as the runner-up. I started with Graham and I learned so much from riding with him. It would have been a dream result to finish on the podium but I'm happy with my result and can't thank the team enough for their support."
Download high-resolution pictures here.
Final Results – Red Bull Romaniacs 2016
1. Graham Jarvis (Husqvarna) 27:04:55
2. Alfredo Gomez (KTM) 27:40:23
3. Wade Young (Sherco) 27:45:29
4. Mario Roman (Husqvarna) 28:07:48
5. Scott Bouverie (KTM) 30:42:45
…
9. Xavi Leon Sole (Husqvarna) 34:47:23