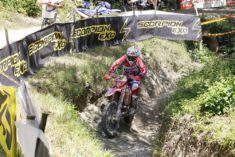 Steve HOLCOMBE (Beta) has claimed the outright EnduroGP class victory on day two of the Acerbis GP of Italy, ending the penultimate round of the series ahead of Finn Eero REMES (TM) and Frenchman Loic LARRIEU (Yamaha). Battling throughout the day with REMES, the young Brit kept his nerve to claim his fourth overall win of the championship to date. EnduroGP championship leader Matt PHILLIPS (Sherco) saw his day end in disappointment as the Tasmanian was forced to retire with a mechanical issue. With conditions improving throughout day one following heavy rain prior to the event, day two took place under blue skies with the once slippery motocross test baked hard by the hot Italian sun. Just as on day one the enduro test proved decisive and just like on day one there were plenty of surprises.
Enduring more than his fair share of bad luck this season, Steve HOLCOMBE hit the ground running on day two to deliver the fastest time during the opening enduro test. Although not winning any further tests in the EnduroGP class he remained fast and consistent and claimed an eventual 20-second margin of victory. "All GPs are important but to be able to give my team a winning result at their home round of the series is great," explained Steve. "I was pleased with my day one result, but knew I could ride better. As much as I liked the slippery conditions I also enjoyed the drier conditions, and had a really good day. The enduro test was great and I just kept pushing as hard as I could. It was fun battling with Remes, but I managed to get the win."
Behind Steve, REMES and LARRIEU both brought their Italian GPs to an impressive close by finishing on the podium in second and third. Missing the EnduroGP top three by less than two seconds Mathias BELLINO (Husqvarna) placed fourth ahead of Beta duo Alex SALVINI and Johnny AUBERT. Improving after his disappointing first day Nathan WATSON (KTM) finished seventh with Italian Manuel MONNI (TM) eighth.
Second in EnduroGP, Eero REMES comfortably topped the Enduro 1 class in Fabriano placing 33 seconds ahead of his nearest challenger. Following his day two DNF at the recent GP of Spain REMES' double winning result was both welcomed and much needed. "It was a good day for me," commented the Finn. "No big mistakes and an important 20 points for the championship. Now we wait for France, I hope things will go well there also." Unable to match REMES' speed Nathan WATSON nevertheless put a frustrating opening day's performance behind him to finish second. Performing well on all tests, especially the extreme test, Nathan placed 31 seconds ahead of Danny MCCANNEY (Husqvarna) who like Nathan bounced back from a disappointing first day. Failing to finish day one, Pascal RAUCHENECKER (Husqvarna) placed fourth ahead of Italians Alessandro BATTIG (Honda) and Rudy MORONI (KTM).
Helped by the DNF of Matt PHILLIPS, Loic LARRIEU picked up the Enduro 2 class win finishing just over one-and-a-half seconds ahead of countryman Mathias BELLINO. Despite BELLINO setting the fastest time in the event's closing extreme test, LARRIEU had done enough earlier in the day to claim a hard fought win. "I'm really pleased that the GP of Italy has ended in such a positive way for me because it certainly didn't start like that," joked Loic at the finish. "The wet conditions were really tough for me on the first day and I made some mistakes on the enduro test and couldn't get a good rhythm. I felt good on the second day, apart from hitting my hand on a small track post. It's a great result for all of the Yamaha team."
Alex SALVINI (Beta) placed a further 13 seconds behind Loic, but ahead of day one overall winner Christophe NAMBOTIN (KTM). Knowing that his lack of physical conditioning would likely see him struggle on day two, NAMBO' pushed hard to reach what is his last GP of the season. Due to undergo knee surgery in the coming days, in winning day one and finishing fourth in E2 on day two the Frenchman showed what he's capable of when he returns to full fitness.
Beaten by his Beta team-mate on just two of the day's special tests Steve HOLCOMBE stormed to yet another Enduro 3 class day win. Needing to secure as many points as possible ahead of the championship's final event in France, HOLCOMBE now sits 17 points ahead of AUBERT in the E3 standings. Rounding out the top three in E3 was Italian Manuel MONNI.
Riding as the newly crowned Enduro Junior World Champion Giacomo REDONDI (Honda) secured yet another day win to continue his unbeaten run in 2016. Close to one-and-a-half minutes ahead of Spaniard Josep GARCIA (Husqvarna) Giacomo topped all but three of the day's special tests in the junior class. "It's been a great Italian GP for me and the Honda team. Today was a great day, without any pressure. After winning the title on day one I didn't have to worry about anything and I really relaxed. I enjoyed the day and the race. Now I can go to France and try and finish a perfect season."
BehindREDONDI, Josep GARCIA put in a strong performance. Winning each of the three motocross tests the young Husqvarna rider placed ahead of Davide SORECA (Honda) who finished third.
With the 125 Enduro Youth title secured Jack EDMONDSON was free to enjoy the second day of the Acerbis GP of Italy, topping his class once again. Ending the day some 45 seconds ahead of countryman Lee SEALEY (Yamaha), Jack showed that he's very much the rider to beat. With SEALEY the runner-up third went to Andrea VERONA (Husqvarna). "It was nice to be able to relax and enjoy the day today," explained EDMONDSON. "Knowing that I could win the title on day one meant I just didn't want to do anything stupid. It's been a tough but good event."