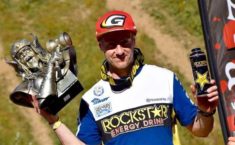 BRITISH STAR CONTINUES HIS WINNING WAYS WITH DOMINANT DISPLAY IN SWEDEN
Rockstar Energy Husqvarna Factory Racing's Graham Jarvis has secured victory at the seventh running of the Battle of Vikings extreme enduro in Storstenshöjden, Sweden. Putting in a dominant race-long performance Jarvis was the only rider to complete a full eight laps around the technical Swedish track.
Kicking off his second participation in the event on a high note, the British extreme enduro star earned a well-deserved third place finish during the event's SuperEnduro-styled prologue. With Saturday's four-hour main event run over a tough and technical track inside the Swedish forest, having recently won both Erzberg and Romaniacs Jarvis started the event as the rider to beat.
Taking some time to find a competitive race pace, Graham passed defending champion Joakim Ljunggren just before the first refueling stop, going on to grab the lead from Wade Young shortly afterwards. Once out front the Brit never stopped extending his lead and was eventually the only rider to start and complete a full eighth lap.
Competing almost simultaneously but at the other end of Europe, Jarvis' Rockstar Energy Husqvarna Factory Racing teammate Mario Roman secured a hard-fought fourth at the second running of The Wall Extreme Enduro in Pietramurata, Italy.
The race featured a morning enduro-styled session along with an extreme test run through the night. Pushing hard Mario missed out on a podium result by less than eight seconds, eventually placing fourth behind fellow Husqvarna rider Thomas Oldrati. Cheered by his home fans, TE 300 mounted Oldrati battled hard to claim the last spot on the podium in third.
The Rockstar Energy Husqvarna Factory Racing duo of Graham Jarvis and Mario Roman will next return to extreme enduro action at Red Bull Megawatt in Poland on September 17/18.
Graham Jarvis: "It feels really good to get the win here in Sweden. The race has a different format compared to what we're used to, but it's definitely worth the title 'extreme'. It's actually four hours of non-stop racing, nothing really difficult but really exhausting. The first lap was the hardest as I was struggling with arm pump. It took me some time to find the good lines and get a good pace going. I passed Joakim just before the fuel stop and caught up with Wade Young right after that. I followed Wade for half a lap but then he got stuck behind a slower rider and I managed to make the pass. I kept plugging away from there and even made a second fuel stop before my final lap."
Mario Roman: "We had a good day of racing at The Wall and we proved that a final podium result was well within our reach. It was also good to mix things up with the EnduroGP guys. The morning session didn't include any extreme parts. My times in the enduro test were quite good, but I was losing seconds in the fast cross test. I knew that anything could happen in the night's extreme test so I tried to remain focused on that. I did a pretty good job in the main event. I found some good lines and kept pushing to reduce the gap to the top. I entered the last two laps knowing I could battle for victory, but I had a big crash in one of the track's vertical wall climbs losing a lot of time. Now it's time to get back to work and prepare for September's Megawatt in Poland."
Results – Battle of Vikings 2016, Sweden
1. Graham Jarvis (Husqvarna) 8 laps, 04:15:25
2. Wade Young (Sherco) 7 laps, 04:00:14
3. Lars Enockl (KTM) 7 laps, 04:09:49
4. Joakim Ljunggren (KTM) 7 laps, 04:15:56
5. Xavier Leon Sole (Husqvarna) 6 laps, 04:00:36
Results – The Wall Extreme Enduro 2016, Italy
1. Alfredo Gomez (KTM) 1:18'04.60
2. Ivan Cervantes (KTM) 1:18'30.29
3. Thomas Oldrati (Husqvarna) 1:19'45.07
4. Mario Roman (Husqvarna) 1:19'52.77
5. Oscar Balletti (Honda) 1:23'08.85