EnduroGP Frankrijk: supertest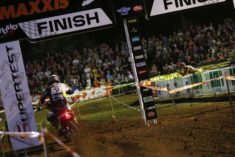 VIDEO.
Impressive Start !
Didier VALADE and the Cahors Trial Club made the things big for this Super Test… A Trial Show, a Mountain Bike Show, a Dee Jay, and a capacity of around 8 000 spectators! And at the end, they were rewarded. Indeed, it's even more than 8 000 spectators that were present around the test of the Commercial Area of Pradines… If they had already exploded the attendance of 2016, the French public offered also an exceptional welcome to the stars of the EnduroGP and even more to their local riders…
CARPENTIER steals the show!
… Who answered perfectly! Indeed, the final Top 3 of this very last Super Test of the year is 100% French! If we have the "usual" Mathias BELLINO (Husqvarna – 1'49''10) and Loïc LARRIEU (Yamaha – 1'49''11) as they made a huge show, it's young gun Jeremy CARPENTIER (Honda) who set the best overall time: 1'48''94!
If the Honda EC2M rider had better conditions in compare to the Seniors (he had still a good natural lightning), his performance is still pretty big as he easily beat Josep GARCIA (E – Husqvarna) and Brad FREEMAN (GB – Yamaha) in Junior Class.
In Senior classes, the French public could enjoy the show and the talent of Arizona boy Taylor ROBERT (KTM – 1'50''63), third in EnduroGP, and Spanish Victor GUERRERO (KTM – 1'50''73), fourth…
In FIM Youth Cup 125cc, Lee SEALEY (GB – Yamaha) was the fastest guy over Frenchmen Valérian DEBAUD (Yamaha)and Thomas DUBOST (KTM) while Laïa SANZ (E – KTM) took a small advantage over her rival Jane DANIELS (GB – Husqvarna) in Women Cup.
The Super Test of the GP AMV of France will remain as the most spectacular of 2016. And it also broke the record of spectators with more than 8 000… It announces a very good weekend in the area of Cahors and mostly a GP going in a very good way for the Cahors Trial Club!