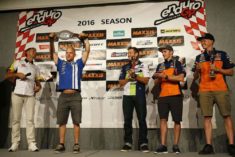 REMES, A Worthy Successor!
The Enduro Test at the Grand Prix AMV of France was shorter than most during the season, but that did not stop the winner from putting in a dominant performance. Located in the small village of St Pierre la Feuille in the hills above Cahors, this last Enduro Test of the season was very popular, with huge numbers of spectators. And for the first time in the history of the Mika Ahola "Brave One" Trophy it is a Finn who walks away with the belt – Eero REMES (TM)!
ROBERT Flies Through the Weekend!
Coming into Cahors, Eero REMES had a 12 point lead ahead of Steve HOLCOMBE (GB – Beta) and he had hoped to take another handful of points to keep the Brit at bay! But the fight was not straight forward as the Finn was in big trouble on Sunday (12th). Luckily for REMES, his rival was not able to take advantage of the situation; HOLCOMBE was 7th and took only five points.
REMES therefore wins the fifth edition of the Mika Ahola "Brave One" Trophy and becomes the first Finn to win the prestigious and sought after prize!
"Mika was a very good friend …" said the 2016 E1 Champion "So it was close to my heart to be able to bring that belt home to Finland! I'm really happy because it was one of my goals this season."
Matthew PHILLIPS (AUS – Sherco), who was still in with a small chance of walking away with the belt, could not do better than 7th and 4th during the weekend and he placed behind Taylor ROBERT (USA – KTM)!
Mathias BELLINO (F – Husqvarna) stole the show on Saturday; taking the win by less than four seconds. But ROBERT bounced back on Sunday with a dominant display. Loïc LARRIEU (F – Yamaha) was also ready to attack! After this very strong weekend, Arizonian ROBERT joined BELLINO with fifth in the final standings.
Despite the impressive performances from the French riders and the American, it was HOLCOMBE and PHILLIPS who completed the top three. They therefore confirm their place among the most determined and talented riders in the Enduro Test.
With young riders now coming to the forefront of the FIM Maxxis EnduroGP World Championship, Eero REMES (31) has taking a superb victory in the Mika Ahola "Brave One" Trophy. Could this begin a new run of form for the Finn, a string of success in the style of Mika AHOLA himself?
Final Classification: 1. Eero REMES (SF) 226pts ; 2. Steve HOLCOMBE (GB) 218pts ; 3. Matthew PHILLIPS (AUS) 198pts; 4. Nathan WATSON (GB) 185pts; 5. Mathias BELLINO (F) 168pts; 5. Taylor ROBERT (USA) 168pts; 7. Johnny AUBERT (F) 137pts; 8. Loïc LARRIEU (F) 125pts; 9. Alex SALVINI (I) 113pts; 10. Manuel MONNI 103pts…