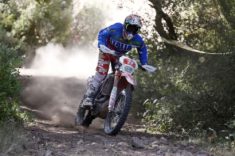 At the end of the first day's competition at the 91st edition of the FIM International Six Days Enduro (ISDE) in Navarra, Spain the USA have taken an early lead in the World Trophy Team competition, just as they did at last year's event in Slovakia. Helped by overall runner-up and third place results from team members Kailub Russell – KTM and Taylor Robert – KTM, the USA team sit twenty-six seconds ahead of Italy with Great Britain third at this point.
In the Junior World Trophy competition Sweden's youngsters ended the day twenty-three seconds clear of Italy with Spain third. Despite Jessica Gardner – Yamaha running into mechanical troubles Australia topped the Women's World Trophy results.
One of the most significant developments on the first full day of competition was that defending World Trophy winners Australia saw their team reduced to three riders when Josh Strang – Husqvarna injured his ankle and was forced to withdraw from the event early on lap two. With the USA leading the way in the World Trophy competition Italy, led by the day's outright fastest rider Giacomo Redondi – Honda, delivered the goods to hold a close runner-up position. Great Britain holds third with less than one-minute separating the top three nations.
"Team USA had a pretty good day, so we're hoping we can continue that. Aside from Thad (Duvall – Husqvarna) having to do a little work to his bike everything was good," commented USA World Trophy team rider Kailub Russell. "There's a long way to go, but it's good to have made a positive start. It was a tough day being in the dust all day. I only had one test that didn't go so well, so I was pleased with how I rode."
Although down in seventh in the World Trophy results Sweden's World Junior Trophy team established themselves at the top of the opening day's results, lead by Albin Elowson – Husqvarna. Just twenty-three seconds ahead of Italy – who hold the runner-up position in both the World Trophy and Junior World Trophy classes – finished less then one-second ahead of Spain. With Josep Garcia – Husqvarna placing fourth overall, Spain sit six seconds ahead of the USA.
As expected Australia's Women's World Trophy team took an early class lead, despite the mechanical issues that affected Jessica Gardiner – Yamaha. Close to one and a half minutes ahead of Spain it was Australia's Tayla Jones – Yamaha who ended the day as the fastest outright Women's competitor. Helped by the strong performance from Maria Franke – KTM, Germany are placed third with the USA and Sweden rounding out the top five.
Italian World Trophy team rider Giacomo Redondi – Honda topped the Enduro 3 class, also ending the day as the outright fastest rider. Daniel Sanders – KTM, the Enduro 3 class winner at last year's ISDE in Slovakia, placed second with Portugal's Luis Correia – Beta in third. The USA's Kailub Russell – KTM and Taylor Robert – KTM battled one another to respectively take the top two spots in the Enduro 2 class with Britain's Jamie McCanney – Yamaha third. Spain's Ivan Cervantes – KTM claimed fourth. Junior World Trophy riders Josep Garcia – Husqvarna, Henric Stigell – TM and Davide Soreca – Honda filled the top three positions in the Enduro 1 class respectively.
Day two of the 2016 ISDE will see competitors ride the exact same course as on day one, although light rain is expected during the day.
The 2016 ISDE is currently taking place in Navarra, Spain from Tuesday 11th to Sunday 16th October.
ISDE Day 1 – Key Facts
USA lead World Trophy Class
Sweden heads Junior Trophy Class
Australia top Women's World Trophy Class
Italy's Giacomo Redondi out front in individual honours
6 tests / 310 Km covered
Dry and dusty opening day