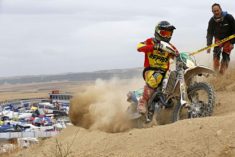 At the end of day two of the 2016 FIM International Six Days Enduro (ISDE) in Navarra, Spain team USA extended their lead in the World Trophy classification, following another hard-fought battle with Italy. The competition was extremely close between the three leading nations – USA, Italy and Spain – with just ten seconds separating them come the end of the day's racing. Helped by an impressive, near day winning performance from Taylor Robert – KTM the four-rider USA squad are now placed thirty-two seconds ahead of Italy in the overall class classification.
In the Junior World Trophy team competition Spain topped the day while Sweden maintained their position at the head of the overall class results. Once again it was Australia's Women who led the Women's World trophy class home, holding station at the top of the class results.
Using the exact same trails and special tests as on day one, the second day of competition saw Spanish youngster Josep Garcia – Husqvarna claim an impressive overall, individual day win. With Italy and the USA again both performing impressively in the World Trophy class, for last year's winners Australia there was yet more bad news. Following the retirement of Josh Strang – Husqvarna on day one through injury, day two saw Daniel Milner – Yamaha also side-lined, his day coming to an end due to a technical issue.
One rider who enjoyed a good day was Taylor Robert – KTM who placed second overall, helping his team extend their World Trophy team lead. "It was a great day for me and the team," commented Robert. "I had one pretty big crash on the day's third test, but the others went well. It was a little strange with it raining a bit during the end of the day, while riding in such dry and dusty conditions. Tomorrow takes us to the half way point of the race and a new track so we're excited to keep pushing and hopefully stay out front."
Helped in no small part by the individual performance of Josep Garcia – Husqvarna, Spain just managed to squeeze ahead of Sweden in the day's Junior World Trophy team results with third going to the USA. After two days of competition things are equally close with Sweden leading the way, just fifteen seconds ahead of Spain with the USA only twenty-four seconds further behind.
Through in the Women's World Trophy class Australia claimed the day win ahead of Spain with Germany third. Maria Franke – KTM ended day two as the fastest Women's rider, placing ahead of Tayla Jones – Yamaha with Spain's Laia Sanz – KTM third. Australia's women have further extended their lead in the overall order, but Spain still keeping them under some level of pressure.
In the Enduro 1 class Spain's Garcia continued his impressive form, topping the class as well as finishing as the day's overall fastest rider. Close to fifty seconds ahead of his closest challenger, Garcia placed comfortably ahead of Italy's Manuel Monni – TM with Spain's Victor Guerrero – KTM close behind in third. "I had a very good day today," admitted a pleased Garcia. "The most important thing was that I didn't crash. The special tests are getting very rough and it is easy to make mistakes, but everything went well for me. I hope I can continue to be fast tomorrow when we have a new track."
The Enduro 2 class results confirm that Taylor Robert – KTM was another rider to claim a commanding class win as the Arizona native finished twenty-seven seconds ahead of Great Britain's Jamie McCanney – Yamaha. Third in Enduro 2 went to USA's Kailub Russell – KTM, despite the US GNCC racer crashing and hurting his right shoulder.
Youngsters Daniel Sanders – KTM and day one overall fastest rider Giacomo Redondi – Honda finished at the head of the Enduro 3 class, with Australian Sanders placing nineteen seconds clear of his Italian rival. Third went to Portugal's Luis Coreia – Beta.
Day three of 2016 ISDE will see competitors tackle a new course, which will feature two laps, a total of six special tests and a total distance of two-hundred and forty-seven kilometres.
ISDE Day 2 – Key Facts
USA extend lead in World Trophy Class
Sweden remain on top in Junior Trophy Class
Australia stay out in front in the Women's World Trophy Class
Spain's Josep Garcia claims overall individual win on day 2
As per day 1 – 6 tests / 310 Km covered
Day 2 ends with rain