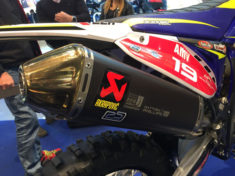 Long time and loyal sponsors for ABC Communication, the world famous brand Akrapovic Exhaust decided to place further importance on its relationship with EnduroGP – by becoming title sponsors of the Super Test held every Friday night before each GP…
By sponsoring the traditional Friday night Super Test, the prestigious brand will also offer a cheque of €1,500 for the fastest Super Test rider at the end of the entire season, all categories (Junior, Youth and Women Cup) included.
"We are delighted to have this investment from this superb brand, Akrapovic Exhaust. They are among our most loyal partners, and we are very happy to be able to work together for the next three years…" admitted Alain BLANCHARD after signing the contract "…This brand has an excellent reputation and profile in off road racing, and also in the world of motorcycling in general. The fact that they have created this new Super Test partnership proves that EnduroGP is an important outlet for them. Having Akrapovic onboard is like a guarantee of quality, and of the popularity of EnduroGP! "
Further proof of the importance of Akrapovic Exhaust in the world of Enduro is in the fact that many of the biggest Factory teams in the paddock such as KTM, Yamaha and Sherco have used "Akra" for many years.
The company based in Ivančna Gorica in central Slovenia, has signed a three year contract with ABC Communication. Satisfying and encouraging proof of the interest of many sponsors in the new image of the FIM Maxxis EnduroGP World Championship…
Prepare to see more Akrapovic in EnduroGP!