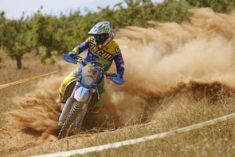 Pushed every step of the way by both Christophe Nambotin (KTM) and Steve Holcombe (Beta), Matt Phillips (Sherco) brought his participation in the AMV EnduroGP of Spain to a winning close by claiming a hard-fought victory on day two. Earning the win by the smallest of margins, Phillips placed 0.29 seconds ahead of Nambotin with Holcombe less than one-second behind in what was a thrilling day-long battle for supremacy in the EnduroGP class. Just as on day one conditions in Puerto Lumbreras were incredibly tough with the dry and dusty ground affording riders little in the way of rest, especially on the event's Extreme Test. With the day shortened to a little over two laps the second stop of the 2017 EnduroGP World Championship unquestionably proved to be a demanding one.
At the top of the EnduroGP class there was next to nothing separating the eventual top three of Philipps, Nambotin and Holcombe. With all three enjoying the close competition, it was naturally Phillips who had the biggest smile on his face as he extended his EnduroGP championship lead. "It's been an awesome weekend for me and the Sherco guys," commented Phillips. "I can't remember the last time it was that close between three guys for the win. It was tough, we were all giving it everything and I enjoyed the close competition. I lost about 11 seconds during the first two special tests, so I had some work to do after that. I just kept pushing and pushing and got back level with Nambo' and Steve and finally things came good. I can't ask for more than two wins." Overcoming a frustrating day one, during which the former champion crashed on several occasions, day two saw the Nambotin of old as he challenged young guns Phillips and Holcombe throughout the race. For Holcombe, like Nambotin, it was a case of mixed emotions after the race having come so close to claiming his first win of the season. Although unable to secure a place on the podium, Loic Larrieu (Yamaha) was another EnduroGP class rider to show impressive form on day two as the Frenchman placed just over five seconds behind Holcombe and ahead of countryman Christophe Charlier (Husqvarna). One rider in the wars on day two was Nathan Watson (KTM). Third on day one the Brit was forced to retire from the race after just one special tests due to tendonitis in his left wrist.
A new name topped the Enduro 2 class on day two – that of E2 class round one winner Eero Remes (TM). With day one victor Josep Garcia (KTM) encountering some technical issues, Remes wasted little time in opening up what become a commanding lead at the top of the 250cc class. Winning four of the day's seven special tests Remes wrapped up his third day win of the series to extend his lead at the top of the E2 championship standings. Runner-up on day two went to Jamie McCanney (Yamaha), who completed a solid weekend having placed third on day one. A little cautious on some of the tests, despite being unable to match Remes' pace he finished eight seconds ahead of his brother Danny. Struggling to gel with the dry, slippery and unpredictable terrain on day one, Danny (Husqvarna) turned things around on day two to finish ahead of team-mate Pascal Rauchenecker (Husqvarna) with day one winner Josep Garcia (KTM) placing fifth.
Runner-up on day one in the Enduro Junior class, Brad Freeman went one better on day two and claimed his first ever world championship day win. Unable to get to grips with the incredibly dusty Extreme Test on day one, on day two the young Brit's best performances came on the Extreme Test. Winning four of the day's tests Brad placed ahead of Mikael Persson (Yamaha) and day one winner Davide Soreca (Honda). With Matteo Cavallo (Beta) fourth, the best performing Spaniard in the Enduro Junior class was Kirian Mirabet (Sherco) in fifth.
Again made to work hard for her win, Laia Sanz (KTM) emerged from the second day's competition with another haul of 25 championship points. Topping three of the day's tests, once again it was Germany's Maria Frank (KTM) who pushed her every step of the way. Also with three test wins to her credit just 21 seconds separated the pair. As on day one Jane Daniels (Husqvarna) rounded out the podium. "It's been a great weekend for me but I had to work so hard for these victories," admitted Laia. "During both days myself and Maria were pushing so much. I pushed really hard during the second enduro test today, and it was nice to have a small advantage after that. I'm really relived that after all the hard work I managed to get two wins. It could easily have been Maria who won, so I expect some great battles between us this year."
Italy's Andrea Verona (TM) claimed victory in the 125 Enduro Youth class, finishing close to half a minute ahead of France's Leo le Quere (TM). Third went to Chilean Ruy Barbosa (Husqvarna).
The 2017 FIM EnduroGP series now moves on to the EnduroGP of Italy, in Spoleto on May 26-28.