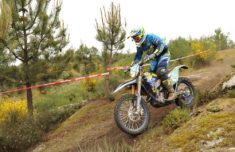 On 29th of April 2017 the European Enduro-Championship starts in Gouveia / Portugal in the new season.
On the demanding track, between rocks and stones an a lot of dust, the french junior-rider Theophile Espinasse took the first victory on the first day. The Sherco-rider won all the first five tests and coul go save on the last one – still finishing 25.6 seconds in front of the Italien Oscar Balletti.
This one had the benefit from the technical problems of Anthony Geslin – the French was second until he was one minute late at the timecheck, after his mechanics could not solve the problem in time. This for the Beta-rider drops down to 14th position.
Natually the junior Espinasse won his junior-E2/E3-class as well, more than half a minute in front of his fellow countrymen David Abgrail and Hugo Balanjoue.
In the junior-class E1 with the small bikes an other french rider took the first place: Jeremy Miroir won ahed the Italien Matteo Rossi and the Czech Kristof Kouble.
At the youngest juniors – at the age under 20 years – the Brit Daniel Mundell won the day in front of Italien Claudio Spanu und Neels Theric from France.
Reigning Senior-E1-champion Guido Conforti did ride only for 5th position of the day. The Swede Andreas Linusson with his KTM took the first position in front of Edgars Silins from Latvia and Daan Bruijsten from the Netherlands.
Marco Neubert, the reigning Senior-E2-champion took the lead until he crashed in the 5th test, where he lost nearly 30 seconds. So KTM-rider Nicolas Pellegrinelli took the victory in front of the Brit Jamie Lewis. Pellegrinelle ist the reigning junior-champion, but now to old, so he has to start in the seniors-classes.
Reigning Senior-E3-champion Maurizio Micheluz was beaten bei his countryman Oscar Balletti. Early day leader Geslin dropped down to third position because of his penalty.
After a long time without racing, the german Arne Domeyer won the day at the veterans: Reigning champion Sebastian Krywolt from Poland took third position behind Juha Puotsaari from Finland.
In the women-class Yamaha-rider Jessica Gardiner took the days win in front of Hanna Berzelius from Sweden an Marita Nyqvist from Finland.
The day bevore the competition the FIM Europe-Kommission and the FIM Europe-Vice-President Michal Sikora had invited all Federations and Teams to discuss the future of the European-Championship.
More information and schedules, results and links, there are always up to date and right on the official website: http://european-enduro.com/