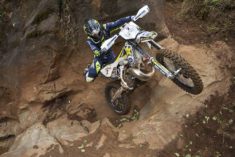 ROCKSTAR ENERGY HUSQVRNA FACTORY RACING RIDER TOPS THE PODIUM IN BELO HORIZONTE
With the four-day event cut short after day two due to environmental concerns beyond the event organisers' control, Rockstar Energy Husqvarna Factory Racing's Graham Jarvis has been declared the winner of the 2017 edition of Minas Riders having ended day two as the overall leader.
Jarvis entered the second edition of the Brazilian race determined to start things off with a victory. Ending a rain-soaked prologue as runner-up, he then went on the attack when the race entered the mountains for the first off-road day.
Pushing hard throughout the five-hour plus opening day of hard enduro racing, the Husqvarna rider claimed a three-minute margin of victory to establish an early lead. Maintaining his position at the head of the field with second on day one, Jarvis was holding a two-minute buffer over his nearest rival Cody Webb as the race entered its second half.
But with days three and four cancelled, Jarvis unexpectedly found himself as the early winner of the 2017 edition of the Brazilian Hard Enduro Rally.
With victory in Brazil, the Rockstar Energy Husqvarna Factory Racing rider now looks to add one more victory to his 2017 campaign at Austria's ErzbergRodeo in June.
Graham Jarvis: "It's great to come away with the win here in Brazil but it is a bittersweet victory due to the race being cut short by two days. It was a situation that arose beyond the event organisers' control and it's disappointing for them and the sport for this to happen. They do an excellent job and I want to thank them for all their hard work, which often goes unappreciated. The first two days of the race were awesome. The conditions were tough, made harder by the weather but trails were fantastic. I was enjoying the fight with Cody too. We rode together quite a lot and I could feel that battle was going to continue right until the chequered flag. We were pushing each other a lot, at times I had an advantage and at other times he did. Day one was probably where I ultimately got the event won. I attacked hard from the beginning because last year I lost too much time on the opening day and didn't want to let that happen again. I won the day by three minutes and then was able to maintain that on day two. It's been good to end the second edition of the event in Brazil with a victory and I'm now looking forward to bringing that winning momentum to the ErzbergRodeo next month."
Download all high-res images from Brazil here.
Final Classification — Red Bull Minas Riders 2017
1. Graham Jarvis (Husqvarna) 5:46:47
2. Cody Webb (KTM) 5:49:29
3. Alfredo Gomez (KTM) 6:03:51
4. Philipp Scholz (KTM) 6:15:01
5. Paul Bolton (KTM) 6:37:28
6. Pol Tarres (Beta) 6:52:57