Sherco's Matthew PHILLIPS leads the way as the third round of the Maxxis FIM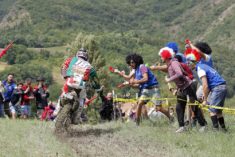 EnduroGP World Championship heads to Italy.
This weekend, the stars of the Maxxis FIM EnduroGP World Championship are heading to Italy and more particularly in Spoleto, for the third round of the season 2017. After the Bergamasque Valleys (Rovetta) in 2015 and the Marches (Fabriano) last year, the Federazione Italiana de Motociclismo (FMI) designated Umbria and the beautiful city of Spoleto same as its Moto Club as organiser of the traditional Grand Prix of Italy. Created in 1921, the MC Spoleto, chaired by Daniele CESARETTI, is renowned in the world of transalpine road racing. The young Moto3 rider Andrea LOCATELLI (Leopard) and Emiliano BELLUCCI (Endurance) are licensed there. From 2010, this Moto Club went through all stages of the Enduro Nazionale, from the National Trophy Mini Enduro to a round of the Italian Championship (2015) with the objective of organising an EnduroGP Grand Prix. In addition, he is represented in Enduro by riders such as Rudy MORONI (I – KTM) and Tommaso MONTANARI (I – Beta).
A city full of history
On the occasion of this third round of 2017, the Moto Club Spoleto designed a course of 65 kilometres in the Umbrian nature. The paddock is located in the heart of Spoleto. From there, the stars of the EnduroGP will race towards the Technomousse Xtreme Test near Pompagnano before taking the direction of the first Time Check. Then they will face the Maxxis Cross Test which will be located in Valico Della Somma. Finally, the loop will end with the KTM Enduro Test which will be at the gates of Spoleto. The Akrapovic Super Test of Friday night will take place at the Stadio Communale and will be broadcast live on Sky Automoto TV (channel 148 of the Italian TV) as well as on automototv.it…
Daniele CESARETTI tells us more: "We have been working on this project for over a year and we hope to create a beautiful party around this World round with Italian riders who will be supported by a whole nation. Our best victory is to have received permission from the municipality to organise what can be called a "super race". Our staff will be composed of 300 volunteers, to whom we will add the help of the police, civil protection and many helpers and passionates. All together, we will give everything for the success of this race!"
Spoleto is located in the province of Perugia in Umbria. A city full of history, Spoleto was the capital of a Lombard duchy. Its Roman Theater as well as its Cathedral of Santa Maria Assumption, its Basilica San Salvatore and its Ponte delle Torri, are witnesses of a great cultural richness. And we can't forget its Rocca Albornoziana built by Pope Innoncent VI, and marked by one of the most famous families of Italy: the Family BORGIA (Lucretia BORGIA having lived in this fortress). A town of 40,000 inhabitants, Spoleto is located 135 kilometres from the Italian capital, Rome, and 52 kilometres from Perugia. As every year on the Italian Grand Prix, an impressive number of fans are expected in the Umbrian city to make this event a great feast of motorcycling all-terrain.
Can REDONDI get a podium at home?
The Spanish EnduroGP category delivered two days of intense racing where victory was decided over a few seconds and even a few tenths. In Spain the reigning World Champion Matthew PHILLIPS (AUS – Sherco) came out victorious. But the Tasmanian has not so much room for manoeuvre against a horde of rivals aiming to take his golden plate. Indeed, Steve HOLCOMBE (GB – Beta), Nathan WATSON (GB – KTM), Loïc LARRIEU (F – Yamaha) and Christophe NAMBOTIN (F – KTM) have proved in Spain they have what it takes to beat the Sherco Factory rider.
Winner in Finland, Antti HELLSTEN (SF – Husqvarna), despite an average Spanish GP (9/9), is still in third overall in the standings, sits just 14 points from PHILLIPS and will intend to play his luck by alternating work and motorcycle.
The same goes for rookie Christophe CHARLIER (F – Husqvarna) who, has the speed  to challenge for a top five result.
For his part, Alex SALVINI (I – Beta) will try to shine in front of his public like Giacomo REDONDI (I – Honda) who was crowned Junior World Champion last year in Fabriano. REDONDI and SALVINI will be accompanied in EGP by Deny PHILIPPAERTS (I – Beta), Simone ALBERGONI (I – Kawasaki), Nicolo MORI (I – KTM) and Paolo LUCCI (KTM).
Finally, Spain's Cristobal GUERRERO (Yamaha) and Jaume BETRIU (KTM) will continue to force their way forward to grab valuable places in the rankings and get closer to the tops guns, while we will see the Portugal's Diogo VENTURA (Honda), present in Puerto Lumbreras, as well as Marco NEUBERT (D – KTM), the E2 European Champion!
GARCIA and MCCANNEY aim to close gap to REMES
In the Enduro 2, Eero REMES (SF – TM) is 16 points ahead of Josep GARCIA (E – KTM) and 20 points up on Jamie MCCANNEY (GB – Yamaha). But the Grand Prix AMV Seguros of Spain proved that the Finn was not unbeatable and his young rivals have his match.
Husqvarna Factory riders Danny MCANNEY (GB) and Pascal RAUCHENECKER (AUT), who are always well-placed like the Finn Henric STIGELL (Husqvarna), will need to be watched closely by the leading trio.
Daniel SANDERS (AUS – KTM), Jonathan BARRAGAN (E – Gas Gas), Lorenzo SANTOLINO (E – Sherco) and Jérémy JOLY (F – Beta) are in search of good results in order to improve their positions in the overall standings.
But the Italian crowd will have eyes only for a strong team from Italy led by Thomas OLDRATI (Husqvarna), Davide GUARNIERI (Honda) and Manuel MONNI (TM). Rudy MORONI, Gianluca MARTINI (Suzuki), Oscar BALLETTI (Husqvarna), Alessandro BATTIG (Kawasaki) and Damiano LULLO (Husqvarna) will also be in action.
Finally, Tommy SJÖSTRÖM (S – Yamaha), Victor GUERRERO (E – Yamaha), Josh GOTTS (GB – TM) and Romain DUMONTIER (F – Yamaha) will aim to figure highly.
SORECA looks to win at home
In Spain, Davide SORECA (I – Honda RedMoto) took full advantage of the absence of Eemil POHJOLA (SF – Husqvarna) to take first place in the standing. Now, another battle begins for him with the defence of his leader's plate. Very fast, "SHOWRECA" will be pushed by a passionate public who are already dreaming of a double Junior champion following REDONDI's success last season.
But the rider of Bordighera will have to work hard to keep his place as leader. Mikael PERSSON (S – Yamaha), POHJOLA, Kirian MIRABET (E – Sherco), Matteo CAVALLO (I – Beta), Antti HANNINEN (SF – Husqvarna) and especially 2016 overall European Enduro champion Brad FREEMAN (GB – Beta) have eyes on the prize.
Beware also of the strong Spanish team represented by Toscha SCHAREINA (KTM) and Enric FRANCISCO (KTM) ready to take advantage of the slightest mistake of the favourites, as well as the return to competition of the 2016 Vice-Champion Albin ELOWSON (S – Husqvarna) who will be very determined. There will be 35 Junior competitors at the start of this third round.
In FIM Youth 125cc, Andrea VERONA (I – TM) will be very clearly the man to beat. With the support of the public behind him the Italian will be hard to beat. Hugo SVARD (SF – Husqvarna), Léo LE QUERE (F – TM) and Ruy BARBOSA (CL – Husqvarna) will have a lot to do in order to prevent him reaching the top step of the podium.
This 3570 RadioTaxi Italian Grand Prix should be a great vintage on a field where Italians will be highly motivated! See you on May, 26th, 27th and 28th in Spoleto, in the province of Perugia, for the third Grand Prix of the Maxxis FIM EnduroGP World Championship where a big celebration is expected!
Information: 
–    Spoleto (Province of Perugia);
–    52 kilometers from Preugia and 135 kilometers from Roma;
–    Fridat, May 26th: Akrapovic Super Test from 18.00;
–    Satuday 27th and Sunday 28th May: Start: 9.00 and Finish of the first riders aroun 16.00;
–    Organizer: Moto Club Spoleto;
–    Website: www.endurogp.org
–    Track: 65kms – 3 laps;
–    Free Access;
–    Airport: Roma (environ 135 kms)
– GPS Points:
•    KTM Enduro Test : 42°42'50.2″N 12°43'20.8″E
•    Maxxis Cross Test : 42°39'55.3″N 12°43'56.8″E
•    Technomousse Xtreme Test (TBC) : 42°41'32.2″N 12°43'22.0″E
•    Akrapovic Super Test : 42°43'53.9″N 12°43'57.8″E