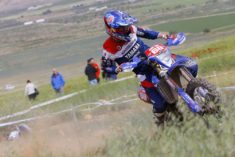 Almost one month after the third round of the 2017 Maxxis FIM EnduroGP World Championship in Spoleto, Italy, the EnduroGP series continues its journey to Parádfürdő, Hungary some 100 km from Budapest.
A young and enthusiastic organizer
"At first it was a dream, but everything became real." These words expressed by Adam HADOBAS, President of the Mátra Extrem Kft and organizer of this Hungarian event, really reflect the club's enthusiasm for hosting a round of the EnduroGP World Championship. Needing to go back 23 years to the last round of the series held in Hungary, in 1994 in Cserénfa, it was a historic event for this small country and a huge boost to the sport of enduro.
It is therefore Adam HADOBAS and his Mátra Extrem Kft team that have the task of creating a track worthy of a round of the World Championship, in this mountainous region of Europe. In the past, this Moto Club has proved its organizational skills in major competitions such as the Alpe-Adria and the Hungarian Enduro Championship. The Mátra Extrem Kft has all the qualities to ensure the success of this Grand Prix. Thus, in Parádfürdő, competition will begin this Friday at 18:00 with the traditional Akrapovic Super Test, which will be located nearby the Hotel Erzsebet Park. Riders will then compete in a loop of 60 km around the town, completing three laps each day. They will leave the paddock towards the Technomousse Xtreme Test located only 1km to the west. After stopping at the first Time Check, they will then tackle the KTM Enduro Test, north of Paradfürdo, to finish with the Maxxis Cross Test near Ercbánya.
Situated at the foot of Mount Mátra, Hungary's highest mountain at 1,015 meters (Mount Kčkes), and in the heart of the most touristic area of the country, Parádfürdo offers the perfect location for this fourth round of the Maxxis FIM EnduroGP World Championship. The geography of the "Parad Tarna" valley promises a magnificent wooded course with numerous challenges.
HOLCOMBE will have to play his A game…
In the EnduroGP class, the Italian Grand Prix saw the emergence of a new leader: Steve HOLCOMBE (GB – Beta). The Brit took full advantage of Matthew PHILLIPS' (AUS – Sherco) mechanical setback to take the lead in the championship. He now sits 21 points ahead of Loïc LARRIEU (F – Yamaha) and 25 points in front of the Australian. Despite this small advantage, the official Beta rider will have to remain vigilant. Indeed, the Italian round also saw the rise of a LARRIEU who showed impressive strength and speed. The official Yamaha is now a serious contender for the title and both HOLCOMBE and PHILLIPS will have to keep a watchful eye on the Frenchman… For its part, the official Sherco CH Racing rider Phillips will be out for revenge in Paradfürdo after his day one DNF in Italy.
Christophe NAMBOTIN (F – KTM) will also likely join the leading trio in battling for victory in Hungary. The official KTM rider has showed impressive speed on occasions this season and the 33-year-old remains a sure bet to challenge for race wins.
Nambotin's teammate Nathan WATSON (GB – KTM), if he's free from the tendonitis problems that have been haunting him in recent GPs, is another who has the talent to fight with the leaders, as does the "Rookie" of the Rockstar Energy Husqvarna Factory Racing team Christophe CHARLIER (F – Husqvarna). Charlier will arrive in Hungary with a recent double win in the Italian Championship to his credit and clearly has the speed to climb on the podium…
Alex SALVINI (I – Beta) should not be left out either. The Italian, invigorated by his two impressive rides at the GP of Italy expects to continue this momentum after a difficult start of season.
Meanwhile, Giacomo REDONDI (I – Honda) will continue his apprenticeship in the EnduroGP category, while Cristobal GUERRERO (E – Yamaha) and Jaume BETRIU (E – KTM), after encouraging results since the beginning of the year, will be looking for top five results.
Two Hungarian riders, Kornel NEMETH (KTM) and local Bence HOLLO (Sherco), who are expected to be favoured by their fans, will race in EnduroGP this weekend and will be joined by Marco NEUBERT (D – KTM), who's back in the series after performing well in Italy…
REMES must react…
In E2, youth has taken over. Despite a thrilling start to the season by Eero REMES (SF – TM) it was Josep GARCIA (E – KTM) and Jamie MCCANNEY (GB – Yamaha) who took control of the category in Italy. Current leader, Garcia impresses with his "fire" and speed while the Outsider Yamaha rider McCanney never ceases to collect the second place…
If he does not want to be quickly sidelined by his two young rivals, REMES will have to take out his big game in Hungary in order to take back the class lead and continue his march forward towards a third world title.
But it certainly won't be easy for Remes, in addition to GARCIA and MCCANNEY we are also witnessing the emergence of Austria's Pascal RAUCHENECKER (Husqvarna). If his teammate Danny MCCANNEY (GB – Husqvarna) regains consistency and speed, REMES will have to resist the advances of four racers all under the age of 26…
It will also be necessary to keep an eye on Thomas OLDRATI (I – Husqvarna), in form at Spoleto, as well as on Jonathan BARRAGAN (E – Gas Gas) and Manuel MONNI (I – TM) who are now experienced riders of this Enduro 2 Class.
Daniel SANDERS (AUS – KTM), Henric STIGELL (SF – Husqvarna) and Lorenzo SANTOLINO (E – Sherco) will have to react quickly, otherwise they will be knocked out of the Top 10. It's the same story for Davide GUARNERI (I – Honda), Rudy MORONI (I – KTM), Jérémy JOLY (F – Beta), Gianluca MARTINI (I – Suzuki) and Romain DUMONTIER (F – Yamaha)…
The Maxxis FIM EnduroGP World Championship will also welcome one of the top guns of Hard Enduro, Lars ENÖCKL (AUT – KTM).
Towards a duel, SORECA – FREEMAN?
In the Juniors, Mikael PERSSON (S – Yamaha) lost a lot of points (mechanical problems) to the class leader Davide SORECA (I – Honda) in Italy. The Honda RedMoto rider already sits 37 points ahead of his closest challenger and after three Grand Prix it is hard to see how the Swede will be able to thwart the plans of the Italian.
The only rider who seems capable of catching SORECA is Britain's Brad FREEMAN (Beta). He has already won two days, as much as the Italian, and in some respects, is reminiscent of Steve HOLCOMBE in his first Junior year (2015).
If nothing changes drastically during the GP of Hungary, it seems that we are heading towards a FREEMAN – SORECA duel for the junior title, and that some riders like PERSSON, Albin ELOWSON (S – Husqvarna), Kirian MIRABET (E – Sherco) and Matteo CAVALLO (I – Beta) will have to up their game if they are to challenge for race wins.
In the FIM Youth Cup, Andrea VERONA (I – TM) looks set to continue his collection of victories. He has already won 4 out of 6 days held so far and one wonders who will be able to stop him… Behind the Italian prospect, we can find the French Léo LE QUERE (TM), who seems to be the only one to be able to worry him, and the Chilean Ruy BARBOSA (Husqvarna). Attention also to Dan MUNDELL (GB – KTM) and Andorran Alex ISCLA (KTM) who have shown impressive form in Italy and could well reiterate their performances in the future.
FRANKE aims for victory…
Finally, in the Women's Cup, the duel between Laïa SANZ (E – KTM) – Maria FRANKE (GB – KTM) will resume after the month-long layoff. It's the Spaniard Sanz who leads at the moment, but the German Frank won more special tests at the first GP in Spain and is focused on claiming her first victory. Behind these two rivals, we should also witness a great battle for third place between Jane DANIELS (GB – Husqvarna), Sanna KARKKAINEN (SF – KTM) and Jessica GARDINER (AUS – Yamaha) while Mireia BADIA (E – Husqvarna), Valérie ROCHE (F – Sherco) and Juliette BERREZ (F – Yamaha) will compete for the 6th position of the standing.
Twenty-three years later, and making a return to Eastern Europe, this Maxxis Grand Prix of Hungary is set to be a classic where the battles for the top of the podium look set to be as hot as the weather. Rendezvous on June 23rd, 24th and 25th in Paradfürdo for the fourth round of the Maxxis FIM EnduroGP World Championship.
Information:
– Paradfürdo (Parad Tarna Region);
– 115 kilometres north-east of Budapest;
– Friday 23rd June: Akrapovic Super Test: 18.00;
– Saturday 24th and Sunday 25th June: Departure: 9.00 a.m. and Finnish around 16.00;
– Organizer: Matra Extreme Kft;
– Websites: www.endurogp.org;
– Track: 60kms – 3 laps;
–    Free Access;
– Airport: Budapest (115 kms)
– Points GPS :
•    KTM Enduro Test : 47°55'35.8″N 20°03'10.4″E
•    Maxxis Cross Test : 47°55'37.3″N 20°05'35.8″E
•    Technomousse Xtreme Test : 47°55'14.4″N 20°02'37.6″E
•    Akrapovic Super Test : 47°55'34.2″N 20°03'53.9″E
•    Paddock: 47°55'30.1″N 20°03'21.2″E