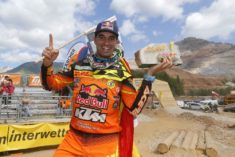 Carrying impressive form into the 23rd running of the Erzbergrodeo, Alfredo Gomez secured the biggest win of his career by reaching the finish of the Red Bull Hare Scramble ahead of Graham Jarvis and Cody Webb. Completing the grueling 25 check point course aboard his KTM 300 EXC in a time of 2 hours and 17 minutes, Gomez steadily worked his way forwards before being the first rider to tackle the hardest sections of the course on his way to a deserved victory.
"It's an amazing feeling to have won the Hare Scramble," enthused Gomez at the finish. "I knew it would be difficult, like Erzberg always is, so I worked really hard to be ready for this race. That hard work with my team has really paid off. The race went really well for me, apart from a small crash about 300 meters from the start. That lost me some time, but I managed to catch up quite quickly and I knew I could do it. I felt good, got through most of the difficult sections well. It was such a great feeling to get to the top of the last major climb. This is the biggest win of my career, it feels incredible."
Determined to go all out and improve on his 2016 Red Bull Hare Scramble result of second, Cody Webb's speed at the start of the race consequentially saw the American struggle with arm pump mid-way through the Hare Scramble. Forced to ride on with severe arm pump during the Karl's Dinner section, Cody nevertheless kept pushing hard to earn a place on the podium in third and less than two minutes behind runner-up Graham Jarvis.
"Second last year, third this year, I'm pleased with that," commented Webb. "Alfredo and Graham were really strong, congrats to them. I got a great start but I possibly pushed a little too hard. I felt good racing with Jonny and Wade Young but I suffered with my arms, especially when I got to Karl's Dinner – they locked solid. I kept pushing and thankfully they freed off. Back-to-back podiums here at Erzberg is awesome."
While it was Gomez who topped the event and Webb who rounded out the podium it was former three-time winner Jonny Walker who led during much of the first hour of racing. Muscling his way around the first turn and into an early lead, Walker set the pace during the early, high-paced series of check points. The first rider to start the infamous Karl's Dinner section, Jonny eventually placed fifth 10 minutes behind Gomez.
"I got a great start and was going really well early on," explained Walker. "I opted for a specific tire choice, but unfortunately it didn't work out as I hoped it would. I really suffered with it to be honest, especially during the later sections of the race. I felt like I was riding well and that I had the speed to win, and felt good leading for much of the first hour. But I was having to carry my bike over too much stuff because of my tire choice, rather than being able to ride up and over it. I started to find things difficult when we got to the woods, I just didn't have the traction I hoped for. I rode as hard as I could through Karl's Dinner but I again struggled on some of the climbs towards the end. It's disappointing because I know I'm riding well and my bike was awesome, but this result doesn't show it."
Just five minutes behind Walker, Paul Bolton claimed a well-deserved sixth place result having reached the finish just 15 minutes behind winner Gomez. Erzberg's youngest ever Hare Scramble finisher Manuel Lettenbichler finished eighth with Travis Teasdale completing the top 10 to ensure yet another memorable and successful Red Bull Hare Scramble for KTM.
Results Erzbergrodeo Red Bull Hare Scramble 2017
1. Alfredo Gomez (ESP), KTM, 2:17:06 h
2. Graham Jarvis (GBR), Husqvarna, +00:03:22 min
3. Cody Webb (USA), KTM, +00:05:04
4. Wade Young (RSA), Sherco, +00:09:31
5. Jonny Walker (GBR), KTM, +00:10:41 
6. Paul Bolton (GBR), KTM, +00:15:53
7. Billy Bolt (GBR), Husqvarna, +00:18:24
8. Manuel Lettenbichler (GER), KTM, +00:24:47
9. Mario Roman (ESP), Sherco, +00:30:20
10. Travis Teasdale (RSA), KTM, +00:34:06