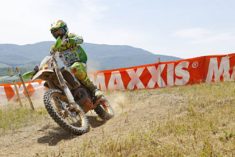 Just as he did on day one of the Maxxis EnduroGP of Hungary, KTM's Christophe Nambotin claimed EnduroGP class victory to complete a perfect weekend in Paradfürdo for the Frenchman. Pushed every step of the way by team-mate Nathan Watson,
Nambo placed less than five seconds ahead of the Brit with Loic Larrieu (Yamaha) a further three-and-a-half seconds further back in third. EnduroGP championship leader Steve Holcombe (Beta) placed fourth. In the Enduro 2 class Jamie McCanney (Yamaha) secured his first win of the season, finishing on top of yet another hard-fought battle with Josep Garcia (KTM). Eero Remes (TM) finished third.
With less than 10 seconds separating the top three finishers in the EnduroGP class on day two of the GP of Hungary, Christophe Nambotin (KTM) once again showed himself as the rider to beat. Topping five of the day's 10 special tests the Frenchman set the pace for much of the first half of the day, but with the short, dry special tests affording no rider an easy time, Nambo' found himself under constant pressure from team-mate Nathan Watson.
Doing exactly what he needed to do in order to take the win, Nambo' rounded out the day mistake free to earn a back-to-back victory. "I rode well this weekend, I feel much better than I did at the start of the season," commented Nambotin. "I really enjoyed this GP. Honestly, I found the last lap today a little bit difficult. I had to push as hard as I could on every lap to stay ahead of Nathan, and in this heat it wasn't easy.  There are three or four riders riding very well in the EnduroGP class, so it looks like there will be many more close battles. I didn't have any crashes today, just some small mistakes. It feels great to be back winning, so I hope I can continue in this way."
Piling the pressure on his team-mate throughout the day, Nathan Watson (KTM) delivered his best performance of the series to date to claim a well-deserved runner-up result. In doing so he showed the kind of form that saw him challenge for the Enduro1 title in 2016. Just as he did on day one Loic Larrieu (Yamaha) also delivered the goods on day two, placing less than four seconds adrift of Watson. With EnduroGP championship leader Steve Holcombe (Beta) unable to find the form that saw him place second on day one, the Brit eventually finished fourth and just one place ahead of his team-mate Alex Salvini. With Cristobal Guerrero (Yamaha) sixth, Jaume Betriu (KTM) seventh, Giacomo Redondi (Honda) finished eighth and ahead of Matt Phillips (Sherco) and Mathias Bellino (Husqvarna). Steve Holcombe (Beta) continues to lead the EnduroGP championship standings on 167 points ahead of Loic Larrieu (Yamaha) on 146 with Christophe Nambotin (KTM) third on 141 points.
Finally claiming the winning result he'd been so close to securing at earlier GPs, Jamie McCanney (Yamaha) topped the Enduro 2 class by an eventual margin on 11 seconds. Disappointed at having failed to stop Josep Garcia (KTM) from winning on day one, on day two Jamie remained mistake free to earn 25 hard-fought championship points. "Seemingly every event I've done this year has come down to the final special test," commented the Manxman. "Today I got the win, so I'm really pleased. I was disappointed that I didn't win on day one so today I gave it everything I had, and a little more. I'm not sure that pushing so much harder was actually faster, but I got the win. It was a tough event, and today was about not making mistakes yet giving 100% in all the test. I'm made up to have finally got a win."
All but level on time going into the final enduro test, Garcia wasn't able to repeat his day one win and claim a double Enduro 2 class win due to a crash. Nevertheless, the young Spaniard claimed second ahead of Eero Remes (TM) who eventually placed 21 seconds behind and 33 seconds adrift of McCanney. Danny McCanney (Husqvarna) looked set to end the day on the podium but a disappointing final enduro test saw him place fourth, five seconds down on Remes. Jonathan Barragan (Gas Gas) put in a strong ride on day two to claim fifth ahead of Davide Guarneri (Honda), Manuel Monni (TM), Pascal Rauchenecker (Husqvarna), Thomas Oldrati (Husqvarna) and Henric Stigell (KTM). Josep Garcia (KTM) remains at the top of the Enduro 2 championship standings on 176 points with Eero Remes (TM) second on 165 points and Jamie McCanney (Yamaha) just one point behind in third.
In the Enduro Junior class a two-rider battle raged throughout the day as Mikael Persson (Yamaha) looked to claim his first win of the season while Brad Freeman (Beta) hoped to claim the double Enduro Junior class win. Neck-and-neck going into the final enduro test it was Freeman who emerged as the class winner, with a test time that would have seen him fourth in the EnduroGP class. "I had to work so hard today," admitted Freeman. "Hats off to Mikael, he was really fast. When he started winning test after test at the start of the day I was a little worried to be honest. But I kept pushing and things worked out great. I thought that if I rode like I did on day one I'd be ok today. But I quickly realised that wasn't going to be the case. I'm pleased because I worked my way forwards and got myself into a position to challenge for the win going into the final enduro test. I had a good lead over third, so I went for it. I had a really good run and I'm so, so pleased to have won and got my first double class win." With Persson second, third went to Matteo Cavallo (Beta) with championship leader Davide Soreca (Honda) sixth. Soreca sits at the top of the EJ standings with 162 points, Mikael Persson is second on 141 with Freeman third on 140.
Turning the tables on day one Women's class winner Maria Franke (KTM), Laia Sanz (KTM) claimed her third day win of the championship to date with a much-improved performance. Winning all but one of the day's special tests, Laia placed 33 seconds ahead of her German rival. With Sanz and Franke claiming the top two positions on the podium, third went to Jane Daniels (Husqvarna). Laia Sanz holds the lead in the Women's championship on 97 points with Franke on 91 and Daniels on 80.
In the 125cc Youth class Andrea Verona (TM) and Leo le Querre (TM) battled it out for the win with Verona finishing 18 seconds ahead. Third went to Ruy Barbos (Husqvarna).
The EnduroGP World Championship now heads to Grevena in Greece on July 1-2.