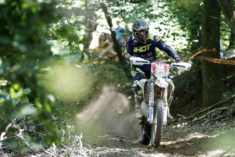 TE 250 MOUNTED ENDURO 2 CLASS RIDER DANNY MCCANNEY SECURES HARD-FOUGHT FOURTH ON DAY TWO
Round four of the FIM EnduroGP World Championship proved to be a challenging one for the Rockstar Energy Husqvarna Factory Racing team, despite the return of Mathias Bellino to the squad following injury. Enduro 2 class rider Danny McCanney claimed the team's best result with a fourth-place result on day two.
Despite occasional heavy rain during the days leading up to the Hungarian event, the fourth round of the 2017 EnduroGP World Championship proved to be another hot and dry race. Featuring a grass track style motocross test, a technical extreme test and a forest based enduro test, the relatively short length of each special test ensured competition remained close at the top of all classes.
In the Enduro 2 class Pascal Rauchenecker and Danny McCanney both showed good speed, but saw mistakes prevent them from challenging for the podium. Topping the Friday night Super Test, Rauchenecker rode a largely consistent opening day but suffered two big crashes to finish fifth, just seven seconds behind the fourth placed rider. On day two he placed eighth.
Danny McCanney was another rider to see crashes effect his results. Falling on the opening extreme and enduro tests on day one he battled his way back to ninth. On day two the Manxman was in contention for a top three result throughout the day before a mistake on the final test resulted in him placing fourth – his second best result this season so far.
The GP of Hungary saw the return of Mathias Bellino to the EnduroGP class. Injured and unable to compete since the season opening GP of Finland, Bellino, who has ridden a bike just twice since March, finished each day of competition to place seventh and 10th.
Crashing on day one, EnduroGP class rider Christophe Charlier battled his way to an eighth-place finish having made a highly positive start to the event by topping the Friday night Super Test. Fracturing a bone in his left hand, Christophe nevertheless started day two, but was forced to withdraw from the event following the opening extreme test.
Round five of the 2017 FIM EnduroGP World Championship takes place in Greece (Grevena) on July 1-2.
Pascal Rauchenecker: "It wasn't the best GP for me, but it started very well when I got the fastest time in the Super Test. That was my first fastest time there. The first day started pretty well but I had two bad crashes and ended the day feeling quite beaten up. I kept pushing and finished fifth, which wasn't too bad. I made mistakes and crashed again on day two so I finished eighth. Not the best weekend but I'm still fourth in the E2 championship and looking forward to return to Greece."
Danny McCanney: "It's been a mixed weekend for me. I made a mistake right at the start of the first extreme test on day one and then again on the first enduro test, where I went over the handlebars. I wasn't really able to recover from those mistakes. Day two was generally much better, I started off really strong. The tests were all so fast and short that it was almost impossible to make up any time. In the final enduro test it was all or nothing to get on the podium and I made a silly mistake and ended up fourth."
Mathias Bellino: "It's been a tough weekend for me, but that's exactly what I expected. Following my shoulder injury in Finland I've only ridden twice in three months before the GP of Hungary, so I knew it would be difficult. The good thing is that my shoulder is fine, no problems at all. I decided to come back to racing a little early, but that was my decision. I want to get back in shape and for me the best way to do that is to get back racing. My results certainly weren't anything special, but returning to racing is the best way for me to work my way back into shape. It's been a good weekend for me." 
Results – 2017 FIM Enduro World Championship, Round 4 
Day 1 
EnduroGP
1. Christophe Nambotin (KTM) 47:16.50; 2. Steve Holcombe (Beta) 47:38.40; 3. Loic Larrieu (Yamaha) 47:41.91; 4. Matthew Phillips (Sherco) 47:49.78; 5. Nathan Watson (KTM) 47:50.28… 7. Mathias Bellino (Husqvarna) 48:33.10; 8. Christophe Charlier (Husqvarna) 48:36.96; 9. Ramon Quer Molgo (Husqvarna) 48:45.98
Enduro 2 
1. Josep Garcia (KTM) 47:27.72; 2. Eero Remes (TM) 47:29.52; 3. Jamie McCanney (Yamaha) 47:32.96; 4. Davide Guarneri (Honda) 47:53.64; 5. Pascal Rauchenecker (Husqvarna) 48:00.84… 8. Henric Stigell (Husqvarna) 48:34.42; 9. Danny McCanney (Husqvarna) 48:41.48; 10. Thomas Oldrati (Husqvarna) 48:49.41
Day 2 
EnduroGP
1. Christophe Nambotin (KTM) 46:53.04; 2. Nathan Watson (KTM) 46:57.72; 3. Loic Larrieu (Yamaha) 47:01.15; 4. Steve Holcombe (Beta) 47:27.28; 5. Alex Salvini (Beta) 47:39.65… 10. Mathias Bellino (Husqvarna) 48:18.35; 11. Ramon Quer Molgo (Husqvarna) 48:51.80
Enduro 2 
1. Jamie McCanney (Yamaha) 47:13.91; 2. Josep Garcia (KTM) 47:25.12; 3. Eero Remes (TM) 47:47.00; 4. Danny McCanney (Husqvarna) 47:52.07… 8. Pascal Rauchenecker (Husqvarna) 48:17.64; 9. Thomas Oldrati (Husqvarna) 48:23.81; 10. Henric Stigell (Husqvarna) 48:32.64
Championship Standings (After Round 4) 
EnduroGP 
1. Steve Holcombe (Beta) 167pts; 2. Loic Larrieu (Yamaha) 146; 3. Christophe Nambotin (KTM) 141; 4. Matthew Phillips (Sherco) 132; 5. Nathan Watson (KTM) 117… 8. Antti Hellsten (Husqvarna) 84… 10. Christophe Charlier (Husqvarna) 77… 13. Marko Tarkkala (Husqvarna) 38… 15. Mathias Bellino (Husqvarna) 25… 23. Mike Brown (Husqvarna) 14
Enduro 2 
1. Josep Garcia (KTM) 176pts; 2. Eero Remes (TM) 165; 3. Jamie McCanney (Yamaha) 164; 4. Pascal Rauchenecker (Husqvarna) 136; 5. Daniel McCanney (Husqvarna) 110… 7. Henric Stigell (Husqvarna) 101; 8. Thomas Oldrati (Husqvarna) 98… 32. Oscar Balletti (Husqvarna) 4; 33. Damiano Lullo (Husqvarna) 3; 34. Mikael Miettinen (Husqvarna) 2