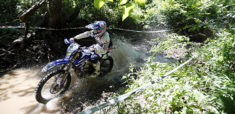 With the long-awaited EnduroGP of Hungary taking place under warm and dry conditions, Outsiders Yamaha Official Enduro Team riders Loïc Larrieu and Jamie McCanney were strong contenders for victory in their respective classes throughout the weekend.
In the premier Enduro GP category, Loïc enjoyed an impressive race pace from the start and kept battling for the top step of the podium until the end of each day. Claiming two third place results, he remains second in the class' standings and will continue battling for the coveted title in the second half of the season.
Continuing his steady progression in the Enduro 2 class of the championship, Jamie earned a long-awaited victory on the second day of racing at the EnduroGP of Hungary. Wrapping up the weekend with third on day one and victory on day two, the Manxman is now third and just one-point from the runner-up position in the Enduro 2 World Championship standings.
Marc Bourgeois – Outsiders Yamaha Official Enduro Team manager
"Both Loïc and Jamie impressed us all with their performances during the weekend in Hungary. It's a real pleasure to see that gradually each one of them is able to push beyond their limits in each race. I have to admit that watching Jamie get his first victory in Enduro 2 has been a big relief. From finishing on the podium to reaching its top step is a world apart and it needs huge mental strength to make it happen. This weekend I saw Jamie get out of his comfort zone racing like a real warrior. He kept pushing hard from start to finish of each day. I keep saying that Jamie has the chance to go a lot higher and I'm convinced that there's a lot more to come from him. He's a really fast learner, more like a machine… As for Loïc, he keeps improving from race to race. He knows where to push and is able to maintain the pace needed to be among the best riders in the series. You need to give it all to race against riders like Christophe Nambotin, Steve Holcombe or even Matthew Phillips and this is exactly what Loïc is doing."
Loïc Larrieu – Outsiders Yamaha Official Enduro Team rider
"It was a great GP for us. The battle for the top step of the podium in our class was really intense. We've reached a level where we're asked to go beyond our limits in each and every special test. Without any error for mistakes, I'm giving it all in each test. This weekend Nambotin put in a really strong performance and the rest of us had to dig deep to match his times. It's both a physical and a mental challenge. From my part, I pushed as hard as I could but a few harmless crashes kept me away from the win. I'm looking forward to the following GP in Greece, where I'm hoping I can have at least one mistake-free day. I'd like to thank all the members of the Outsiders Yamaha Official Enduro Team for their amazing job on my bike and for taking care of all the little but important details during the weekend. It was a pleasure racing my bike in these conditions. I also like to congratulate my teammate Jamie for getting his first victory in Enduro 2 class. I know it's a very competitive class and he had to give his all to make it happen."
Jamie McCanney: "We finally made it! To be honest I've been waiting for this victory to come for a long time. Since the start of this season I've found myself battling for the top step on the podium on more than one occasions but it always went down to the last test of each race. Both my main rivals Eero and Josep gave their best in Hungary and I'm really happy I managed to come out on top on day two. We all gave it 100% throughout the weekend. I'm also happy I have Marc by my side. He's been giving me some really useful advice since the start of the season and that has helped my go beyond my limits. With more than a decade of experience racing the World Championship I always try to listen and learn from him. I'm hoping I can keep the momentum going in Greece so that I can stay in the battle for the Enduro 2 title."
The Outsiders Yamaha Official Enduro Team return to action in what's expected to be a very warm EnduroGP of Greece on July 1/2.
Detailed results and standings from the World Enduro Chamionship can be found here: www.endurogp.org
The Outsiders Yamaha Racing Team