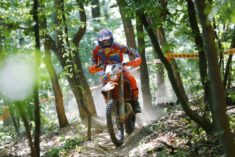 Fourth in class during the Friday night Super Test, Nambotin wasted no time in getting up to speed on day one in Hungary as he posted the fastest times in both the opening extreme and enduro tests. Going on to top a further three special tests the Frenchman ended the day with a deserved first EnduroGP class win of 2017. On day two, despite continued pressure from team-mate Nathan Watson, Nambotin put his experience to good use to complete the perfect GP with a second day win.
Nambotin: "I rode well this weekend, I feel much better than I did at the start of the season and I really enjoyed this GP. It was important to have a good first lap on day one, which I managed to do. The team have put in a lot of work, so to reward them with victory is really good. Honestly, I found the last lap on day two a little bit difficult. I had to push as hard as I could on every special test to stay ahead of Nathan, and in this heat it wasn't easy. I didn't have any crashes today, just some small mistakes. It feels great to be back winning, so I hope I can continue in this way. There are three or four riders riding very well in the EnduroGP class so it looks like there will be many more close battles this season."
Plagued with bad luck during the early GPs of the season, Nathan Watson finally showed his true speed placing fifth on day one before challenging for the win throughout the second day of competition. Less than one-second from fourth on day one, on day two Nathan pushed team-mate Nambotin hard throughout to eventually place as runner-up and less than five seconds from the win.
Watson: "I've had a rough time of things during the first three GPs of the year. I've had so little time on a bike that I've not been able to get any momentum behind my training or racing. But this weekend things finally started falling into place. Since the GP of Italy I've been able to train and ride more and although I've still got some work to do things are definitely improving. Day one didn't start so well – I felt a little rusty on the special tests when there were no lines on them. But I knew that I had the speed to do well and things improved test-by-test. Day two started well and I battled with Nambotin all day. I really enjoyed it, and I hope that things go as well in Greece next weekend."
Continuing his impressive form during his rookie season of senior class competition, Josep Garcia earned his fourth Enduro 2 class win of the series with a hard-fought victory on day one. Crashing no fewer than three times the Spaniard entered the final special test of the day trailing Finnish rival Eero Remes, yet managed to record the fastest time in his class to win by 1.80 seconds. Day two saw further close racing in the Enduro 2 class with Garcia finishing second following crashes in the extreme and enduro tests.
Garcia: "It's been a very good GP for me. I liked the conditions very much and although I made three mistakes during the first day I arrived at the final special test just a few seconds behind Eero Remes. I pushed hard and managed to win. I was competitive again on day two but I made a mistake on one of the extreme tests when I was leading, so I was behind by six or seven seconds. I had to push really hard to catch back up because Jamie McCanney was very fast. Unfortunately, I crashed again in the final enduro test and finished second. It would have been great to win again like on day one, but I am very pleased with the way the GP of Hungary has gone for me."
Competing alongside Garcia, Daniel Sanders finished sixth and 11th in the Enduro 2 class in Hungary.
In the Women's class Laia Sanz finished as runner-up to Germany's Maria Franke on day one before topping the results on day two. With mistakes preventing Laia from challenging for the win during day one, day two saw a faster more confident Sanz finish 33 seconds clear at the top of the results.
Sanz: "Day one was difficult for me but I'm pleased that I got the win on day two. I made too many mistakes on day one, that was it. The race days were short so it was hard to make up any lost time. I removed those mistakes on day two and rode like I know I can."
Next Round: July 1-2, 2017 – EnduroGP of Greece
Results – 2017 FIM Enduro World Championship, Round 4
Day 1
EnduroGP
1. Christophe Nambotin (KTM) 47:16.50
2. Steve Holcombe (Beta) 47:38.40
3. Loic Larrieu (Yamaha) 47:41.91
4. Matthew Phillips (Sherco) 47:49.78
5. Nathan Watson (KTM) 47:50.28
11. Jaume Betriu (KTM) 48:51:14
12. Kornel Nemeth (KTM) 49:24:00
13. Marco Neubert (KTM) 49:41:93
16. Norbert Jager (KTM) 1:05:21:75
Enduro 2
1. Josep Garcia (KTM) 47:27.72
2. Eero Remes (TM) 47:29.52
3. Jamie McCanney (Yamaha) 47:32.96
4. Davide Guarneri (Honda) 47:53.64
5. Pascal Rauchenecker (Husqvarna) 48:00.84
6. Daniel Sanders (KTM) 48:16:81
11. Rudy Moroni (KTM) 48:55:94
15. lars Enockl (KTM) 49:29:41
18. Edward Hubner (KTM) 52:12:64
Enduro Women
1. Maria Franke (KTM) 29:31:72
2. Laia Sanz (KTM) 29:34:25
3. Jane Daniels (Husqvarna) 30:27:16
4. Jess Gardiner (Yamaha) 31:06:65
5. Mireia Badia (Husqvarna) 31:24:75
Day 2
EnduroGP
1. Christophe Nambotin (KTM) 46:53.04
2. Nathan Watson (KTM) 46:57.72
3. Loic Larrieu (Yamaha) 47:01.15
4. Steve Holcombe (Beta) 47:27.28
5. Alex Salvini (Beta) 47:39.65
7. Jaume Betriu (KTM) 47:45:24
13. Kornel Nemeth (KTM) 49:29:57
Enduro 2
1. Jamie McCanney (Yamaha) 47:13.91
2. Josep Garcia (KTM) 47:25.12
3. Eero Remes (TM) 47:47.00
4. Danny McCanney (Husqvarna) 47:52.07
5. Jonathan Barragan (Gas Gas) 47:54:99
11. Daniel Sanders (KTM) 48:47:80
12. Rudy Moroni (KTM) 48:52:83
17. lars Enockl (KTM) 50:34:85
18. Edward Hubner (KTM) 52:02:24
Enduro Women
1. Laia Sanz (KTM) 29:27:94
2. Maria Franke (KTM) 30:01:24
3. Jane Daniels (Husqvarna) 30:50:06
4. Jess Gardiner (Yamaha) 31:56:72
5. Mireia Badia (Husqvarna) 32:00:56
Championship Standings (After Round 4)
EnduroGP
1. Steve Holcombe (Beta) 167pts
2. Loic Larrieu (Yamaha) 146
3. Christophe Nambotin (KTM) 141
4. Matthew Phillips (Sherco) 132
5. Nathan Watson (KTM) 117
9. Jaume Betriu (KTM) 77
18. Kornel Nemeth (KTM) 17
Enduro 2
1. Josep Garcia (KTM) 176pts
2. Eero Remes (TM) 165
3. Jamie McCanney (Yamaha) 164
4. Pascal Rauchenecker (Husqvarna) 136
5. Daniel McCanney (Husqvarna) 110
6. Daniel Sanders (KTM) 101
13. Rudy Moroni (KTM) 57
23. Lars Enockl (KTM) 10
Enduro Women
1. Laia Sanz (KTM) 97
2. Maria Franke (KTM) 91
3. Jane Daniels (Husqvarna) 80
4. Jessica Gardiner (Yamaha) 69
5. Mireia Badia (Husqvarna) 48