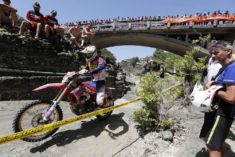 The opening day of competition at the Maxxis FIM EnduroGP of Greece in Grevena ended with EnduroGP championship leader Steve Holcombe (Beta) claiming his second victory of 2017, having battled against extreme heat and an on-form Nathan Watson (KTM). Fighting his way to Enduro 2 class victory Josep Garcia (KTM) secured his fifth win of the year despite a big crash on the event's final motocross test. 
In the EnduroGP class Steve Holcombe (Beta) ended the first full day of competition just as he finished the Friday night Super Test – winning. Up beat following his first Super Test win of 2017, Steve quickly made his intentions know as he faultlessly completed the opening extreme test to extend his lead. Despite the stifling heat and increasingly demanding extreme test, Holcombe ended the day 12 seconds ahead and picking up his second day win of the series to date.
I think it's been the same for all riders, this has been a really challenging day because of the heat, commented Holcombe. It wasn't the longest day, it wasn't the most technical day, but it was tough. There was no escaping the heat, but I felt good throughout the day. The extreme test went really well for me. I knew that I might not be the fastest on the motocross test, so I focused on the extreme and enduro tests. I couldn't have asked for a better result. 
Continuing his impressive form from the GP of Hungary, Nathan Watson (KTM) ensured a British one-two result as he delivered the strongest and most consistent challenge to Holcombe. Fast on both the motocross and enduro tests, the extreme test was Watson's undoing as mistakes on the technical, rock littered test ultimately prevented him from challenging for the win. Loic Larrieu (Yamaha) rounded out the podium in the EnduroGP class with the Frenchman delivering yet another impressive ride to place nine-seconds behind Watson.
Alex Salvini (Beta) put his disappointing day one Hungarian result behind him to place fourth with Christophe Nambotin (KTM) fifth. Jaume Betriu (KTM) claimed his best result of the season to date with a sixth-place result and finishing only 0.22 of a second behind Nambotin. Matt Phillips (Sherco), Mathias Bellino (Husqvarna), Cristobal Guerrero (Yamaha) and Giacomo Redondi (Honda) rounded out the top 10.
Securing his fifth Enduro 2 class day win of 2017, Josep Garcia (KTM) earned an 18-second margin of victory, finishing ahead of Jamie McCanney (Yamaha). Winning four of the days' special tests, even with a fall on the final motocross test Garcia once again proved too fast for his rivals.
I had a good day, explained Garcia. For me the dry conditions were perfect. Yes, it was hot but I didn't have any problems with the heat. Apart from one special test everything went well, getting another victory is great for the championship. It's going to be a long, hard day tomorrow.
The battle for the runner-up result was between Jamie McCanney (Yamaha) and Davide Guarneri (Honda), with McCanney eventually finishing second and finishing just under three seconds ahead of the Italian Guarneri. In finishing in third Guarneri claimed his first podium result of 2017. Some 26 seconds behind Guarneri, Pascal Rauchenecker (Husqvarna) finished fourth but close to 30 seconds adrift. Eero Remes (TM) eventually ended day one in fifth ahead of countryman Henric Stigell (Husqvarna) who claimed his best result of the year to date, outside that of his home GP. Danny McCanney (Husqvarna) finished seventh with Lorenzo Santolino (Sherco), Daniel Sanders (KTM) and Jonathan Barragan (Gas Gas) rounding out the top 10.
Brad Freeman (Beta) was again the rider to beat in the Enduro Junior class, finishing ahead of championship leader Davide Soreca (Honda). Second during the Friday night Super Test, Freeman topped three of the day's tests in the junior class to claim a hard-fought victory. That was so, so difficult. I felt good on the first lap but on the second lap I just had no energy, I thought I was going to struggle to finish the day, admitted Brad. But thankfully I felt better again on the final lap and managed to finish the day with a really good enduro test. I gave it everything, but man that was a tough day.
250f mounted riders Davide Soreca (Honda) and Mikael Persson (Yamaha) rounded out the junior podium, with Soreca finishing 12 seconds behind Freeman and Persson a further 27 seconds adrift. Tosha Schareina (Husqvarna), Albin Elowson (Husqvarna) and Enric Francisco (KTM) rounded out the top six.
Andrea Verona (TM) claimed his seventh day win of the series with a convincing victory on day one in Grevena, pacing 45 seconds ahead of Leo Le Quere (TM) with Alonso Fernandez finishing third.