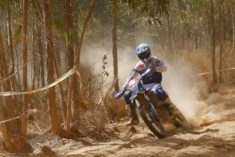 Enjoying the most successful GP of his season so far, Outsiders Yamaha Official Enduro Team rider Jamie McCanney wrapped up round six of the 2017 FIM EnduroGP World Championship claiming two Enduro 2 class victories during a hot and dusty EnduroGP of Portugal.
In dominant form throughout the weekend, the Manxman battled through extremely hot and dusty conditions to top the Enduro 2 class podium on both days in Castelo Branco.
Posting the second fastest time in the short opening SuperTest on Friday, the WR250F mounted rider entered the first full day of racing in Portugal determined to battle for victory. Winning eight out of nine tests on Saturday, Jamie wrapped up the day with a well-deserved 23-second margin of victory.
Not letting the physically demanding tests phase him, Jamie continued his impressive form into the second day's competition, focused only on repeating his podium topping day one result. Involved in a day-long battle with championship rival Josep Garcia, McCanney kept pushing until the end to secure his fourth victory for the season in style.
Earning 50 valuable championship points in Portugal, Jamie has reduced the gap to the provisional championship leader Josep Garcia to just six points.
Jamie McCanney and the Outsiders Yamaha Official Enduro Team return to action at Hawkstone Park, Great Britain, round seven of the 2017 EnduroGP World Championship on September 23/24.
"We had a great battle with Josep Garcia throughout the weekend and I'm so happy I secured two victories. From the first to the last test on both days there was no room to relax – I had to give my best in every single corner. I was feeling confident so kept my head down and tried to avoid mistakes. I was probably a little bit too cautious in the short extreme test, but my speed was very good in the enduro test and the cross test. Overall, it was a tough weekend and the tests were pretty long. But I proved I've done my homework. I'm so happy with how things turned out in Portugal. The gap to Josep, who's leading the championship, is now down to six points. With two more rounds to go anything can happen."