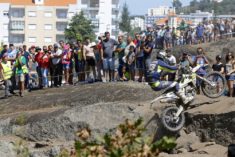 Day two of the Polisport EnduroGP of Portugal was one for the Brits as Jamie McCanney (Yamaha), Steve Holcombe (Beta)and Brad Freeman (Beta) respectively topped the Enduro 2, EnduroGP and Enduro Junior podiums. Another long, hot, dusty and demanding day in the saddle, there was plenty of drama with notable retirements in all classes. 
Day two of the GP of Portugal was building towards a three-way fight in the EnduroGP class between eventual winner Steve Holcombe (Beta), Christophe Charlier (Husqvarna) and Nathan Watson (KTM). But on the second extreme test Watson's hopes of challenging for victory were ended when a broken gear lever left him stranded inside the extreme test. Forced to fit a new lever, he lost precious minutes and ended the day 10th. Winning only two of the day's special tests, consistency paid off for Holcombe who completed a strong opening lap before claiming his third day win of the season and also extending his championship lead. "I really wanted to have a good first lap today," explained Holcombe, "and try and make things a little more straightforward for myself. And I think it worked. I knew the rougher tests would suit me better, and I also removed the mistakes I made on the extreme test on day one. It was a tough day, three or four of us were really pushing hard. I don't think we'll see too much more dry and dusty conditions in the world championship now, so I'm excited to start preparing for my home GP. We're one step closer to the end of the championship, but there's still a lot of racing to do."
Finishing as runner up to Holcombe, Christophe Charlier (Husqvarna) earned his best result of the season to date. Less than four seconds from the top step of the EnduroGP podium, Charlier, who returned to competition having ridden a bike just once in the past four weeks, managed to stay ahead of a hard-charging Matt Phillips (Sherco) who rounded out the podium in third. Crashing in the final enduro test Loic Larrieu (Yamaha) finished fourth, just five seconds behind Phillips with Jaume Betriu (KTM) again delivering an impressive performance to place fifth. Cristobal Guerrero (Yamaha), Mathias Bellino (Husqvarna), Giacomo Redondi (Honda), Denny Philippaerts (Beta) and Nathan Watson (KTM) rounded out the top 10. On day two Christophe Nambotin (KTM), Alex Salvini (Beta) and local favourite Diogo Ventura (Honda) were all forced retire.
Repeating his day one victory to close the gap at the head of the Enduro 2 class to just six points, Jamie McCanney (Yamaha) earned the first double class win of his career following a consistent day-long performance. Winning five of the day's tests yet taking things cautiously on the extreme test McCanney placed just under 12 seconds ahead of Garcia.
"Today was really tough," explained Jamie. "I felt like I couldn't ease off at all, not even in one corner. Like so many times this year things were so tight between myself and Garcia – it was certainly intense. I was a little too cautious in the extreme test but, yeah, we pushed each other really hard right the way to the end of the day and I'm so pleased I was able to get the win – my first double win. I took a few more points back in the championship as well so I'm really excited about the final two rounds of the series."
Giving everything in the hope of beating Jamie, Josep Garcia in turn placed 45 seconds ahead of Eero Remes (TM). Pascal Rauchenecker (Husqvarna) improved on his day one result to finish fourth on day two, while Manuel Monni (TM) also improved his result to place fifth. Thomas Oldrati (Husqvarna), Danny McCanney (Husqvarna), Henric Stigell (Husqvarna), Rudy Moroni (KTM) and Jonathan Barragan (Gas Gas) rounded out the top 10.
ANDREA VERONA CROWNED 125CC YOUTH WORLD CHAMPION
In the Enduro Junior class it was all-change at the top of the results as day one runner-up Mikael Persson (Yamaha) was forced to retire while Brad Freeman (Beta) replaced Albin Elowson (Husqvarna) as the day winner. Struggling during the opening day's competition due to a catalogue of errors on all special tests, on day two Freeman found his rhythm and eliminated the costly mistakes. Battling with Elowson throughout the day, the duo were separated by just 11 seconds at the finish with placed Davide Soreca (Honda) a distant third. "I'm not at all pleased with the way I rode on the first day, but I am pleased that I was able to turn things around for day two," admitted Freeman. "I didn't make any changes, only that I didn't crash on the second day. I don't feel like I rode that well, but others made mistakes and I stayed consistent. As far as the championship goes it's very much game on. I'm looking forward to the next round in the UK, I'll be working hard during the coming weeks."
In the 125cc Youth class the first title of the 2017 Maxxis FIM EnduroGP World Championship was awarded as Italy's Andrea Verona (TM). While Leo Le Quere took the day win by two seconds, in securing the runner-up result Verona collected enough points to wrap-up the title despite the fact that four days of the series remain. Joining Le Quere and Verona on the podium in third was Chilean Ruy Barbosa (Husqvarna).
Organising their first ever world championship enduro event, the Escuderia de Castelo Branco ensured a highly exciting and professionally organised GP.
The 2017 Maxxis FIM EnduroGP World Championship now takes an extended nine-week summer break before firing back into life with the EnduroGP of Great Britain at the iconic Hawkstone Park on September 23/24.