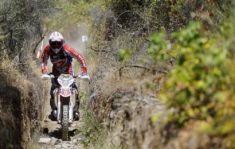 Steve Holcombe has claimed another double podium result, this time at the EnduroGP of Portugal – round six of the FIM EnduroGP World Championship. In one of the toughest events of the season so far, Steve rode fast and consistently to finish third on day one before upping his game to claim the win on day two. With only two rounds of the 2017 series remaining Steve leads the premier EnduroGP class by a healthy 37 points.
On the first day, Steve rode like the champion he is. With the wide, fast and very dusty Portuguese tests not really suiting the British rider, he rode sensibly despite some mistakes and placed third, a little over one-second behind the runner-up spot. On day two Steve kept the pressure on his rivals. With day one winner Nathan Watson losing time with a technical issue in the extreme test, Steve took advantage and claimed the win. In doing so he maximised his championship advantage.
Round seven of the 2017 FIM EnduroGP World Championship takes place in Great Britain on September 23-24th
Steve Holcombe: "I couldn't really have asked for much more from the GP of Portugal. I'll be honest, I wasn't sure which way the race would go for me – I was expecting my championship lead to be reduced. The fact that I managed to extend it is awesome. I'm really happy with the way I rode on day two, but on day one I wasn't really riding like I can. It started with the Super Test, where I was just too nervous, too wound up. A good run through the Super test makes such a big difference, as I experienced in Greece.
Starting day one in Portugal 12 seconds behind wasn't exactly ideal. I never really got into my stride – I wasn't aggressive enough on the extreme test. I feel like I should have got second. So third on a not so good day wasn't too bad really. Day two went well. I pushed hard on the opening lap and managed to stay ahead during the second and third laps. It's been another really good GP for me."
RESULTS – ENDUROGP OF PORTUGAL, DAY 1
1. Nathan Watson (KTM) 1:12:26.83; 2. Matthew Phillips (Sherco) 1:13:50.33; 3. Steve Holcombe (Beta) 1:13:51.49
RESULTS – ENDUROGP OF PORTUGAL, DAY 2
1. Steve Holcombe (Beta) 1:14:26.51; 2. Christophe Charlier (Husqvarna) 1:14:30.24; 3. Matthew Phillips (Sherco) 1:14:40.29;
CHAMPIONSHIP STANDINGS – ENDUROGP WORLD CHAMPIONSHIP (AFTER ROUND 6)
1. Steve Holcombe (Beta) 259 points; 2. Loic Larrieu (Yamaha) 222; 3. Matt Philipps (Sherco) 202