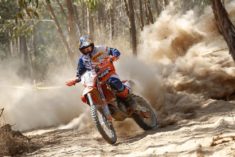 Completely at home in the fast, dry and dusty Portuguese conditions Nathan dominated the first day of competition, winning seven of the nine special tests. Cautious around the technical, slow-speed extreme test, on the faster motocross and enduro tests he was untouchable.
Frustratingly for Watson his hopes of a double EnduroGP class win were ended when he damaged his gear shift lever in the extreme test on lap two of day two. Forced to replace the shifter inside the special test and with the clock ticking, Nathan lost more than four minutes. Despite bouncing back to win the very next enduro test he was not able to finish higher than 10th.
Watson: "I guess you could say I had good speed but some bad luck this weekend. Obviously, day one was amazing. I liked the look of the special tests before the race and felt really comfortable on them. Day one was almost perfect, and to win by more than one-minute was amazing. Despite waking up feeling a little tired I was confident of a good result on day two. Winning the first test by nearly ten seconds was great. I went into the enduro test and dropped it twice ending up stalling my bike both times, which was really disappointing. I made up for the lost time in the motocross test and got back to within a couple of seconds of Steve Holcombe, who was leading. Unfortunately, in the second extreme test I caught a rock and ripped my gear lever clean off, with the bike stuck in neutral. After losing so much time fitting a new gear lever it was hard to concentrate for the rest of the day and I ended up making more mistakes. I know my speed was good, I just wasn't able to get the day two result I feel I should have." 
Nathan's EnduroGP class team-mate Christophe Nambotin endured a frustrating GP of Portugal. Injuring his foot during the opening day of competition he battled on and managed to complete the day, finishing in 10th position. Completing just one special test on day two Nambotin was forced to retire due to pain from his foot.
In the Enduro 2 class, Josep Garcia was locked in an intense two-rider battle with friend and championship rival Jamie McCanney. Unable to feel fully settled in the incredibly dry conditions on day one, numerous small mistakes prevented Josep from challenging for the win. Finishing as runner-up he placed 23 seconds behind winner McCanney.
On day two the battle for the top of the E2 podium intensified with Garcia giving everything in the hope of winning. Winning four special tests, the Spaniard fell just short of the top step of the podium but claimed a well-deserved runner-up result to maintain his lead in the Enduro 2 championship standings.
Garcia: "The weekend has been really tough for me. Battling with Jamie means I'm riding on the limit the whole time. I fell on the first extreme and the second enduro test and it was hard to catch back to Jamie on day one. I made a few more mistakes on day two and felt more tired. Despite that, I am happy with my speed and was able to win a few tests. I just need to work on my consistency, concentrate on that and continue to work hard with the team before the next round."
Crashing before the first special test on day one and damaging his clutch, Daniel Sanders was never really able to get any positive momentum rolling during the GP of Portugal. Finishing 13th on day one the Australian also placed 13th on day two.
Sanders: "I got through this weekend ok, but it wasn't what I was hoping for. I arrived in Portugal still nursing a sore head after a crash at a desert race back home in Australia. Unfortunately, a mistake early on day one caused damage to my clutch, which put me on the back foot from the off. I didn't really take to the tests here in Portugal. I feel I'm better suited to the tougher style of enduro tests – this was too fast, too straightforward. We'll work hard and see what the next round brings."
Next round: September 23-24, EnduroGP of Great Britain
Results – 2017 FIM EnduroGP World Championship, Round 6   
Day 1
EnduroGP 
1. Nathan Watson (KTM) 1:12:26.83
2. Matthew Phillips (Sherco) 1:13:50.33
3. Steve Holcombe (Beta) 1:13:51.49
4. Loic Larrieu (Yamaha) 1:14:09.32
5. Christophe Charlier (Husqvarna) 1:14:16.49
6. Jaume Betriu (KTM) 1:14:36.57 
10. Christophe Nambotin (KTM) 1:15:45.48  
Enduro 2  
1. Jamie McCanney (Yamaha) 1:12:43.29
2. Josep Garcia (KTM) 1:13:06.92 
3. Davide Guarneri (Honda) 1:13:37.28
4. Eero Remes (TM) 1:13:58.68
5. Pascal Rauchenecker (Husqvarna) 1:15:01.53
9. Rudy Moroni (KTM) 1:15:55.17 
13. Daniel Sanders (KTM) 1:17:20.06   
Day 2   
EnduroGP
1. Steve Holcombe (Beta) 1:14:26.51
2. Christophe Charlier (Husqvarna) 1:14:30.24
3. Matthew Phillips (Sherco) 1:14:40.29
4. Loic Larrieu ( Yamaha) 1:14:45.42
5. Jaume Betriu (KTM) 1:15:04.54 
10. Nathan Watson (KTM) 1:18:50.72   
Enduro 2 
1. Jamie McCanney (Yamaha) 1:13:40.93
2. Josep Garcia (KTM) 1:13:52.70 
3. Eero Remes ( TM) 1:14:38.50
4. Pascal Rauchenecker (Husqvarna) 1:15:06.26
5. Manuel Monni ( TM) 1:15:55.47
9. Rudy Moroni (KTM) 1:16:42.55 
13. Daniel Sanders (KTM) 1:18:25.67 
Championship Standings (after round 6)   
EnduroGP 
1. Steve Holcombe (Beta) 259 points
2. Loic Larrieu (Yamaha) 222
3. Matt Phillips (Sherco) 202
4. Nathan Watson (KTM) 200  
5. Christophe Nambotin (KTM) 180   
8. Jaume Betriu (KTM) 139 
Enduro 2  
1. Josep Garcia (KTM) 267 points  
2. Jamie McCanney (Yamaha) 261
3. Eero Remes (TM) 237
4. Pascal Rauchenecker (Husqvarna) 204
5. Danny McCanney (Husqvarna) 167
9. Daniel Sanders (KTM) 143  
13. Rudy Moroni (KTM) 81 
23. Lars Enockl (KTM) 10