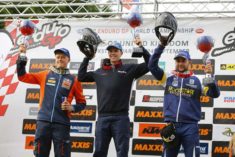 HOLCOMBE & GARCIA WIN ON DAY ONE OF THE FUNNELWEB FILTER ENDUROGP OF GREAT BRITAIN
Steve Holcombe (Beta) made a winning start at the FunnelWeb Filter GP of Great Britain where the EnduroGP World Championship leader claimed a commanding win at the end of the series' first ever enduro sprint. Placing 31 seconds ahead of runner-up Nathan Watson (KTM) and a further 12 seconds in front of third placed Christophe Charlier (Husqvarna), Steve also extended his championship lead and is now just seven points away from the 2017 EnduroGP title. In the Enduro 2 class Spain's Josep Garcia (KTM) claimed victory ahead of Eero Remes (TM) and Jamie McCanney (Yamaha).
Hitting the ground running, Steve Holcombe (Beta) dominated the six laps of the enduro test at the start of day one of the GP of Great Britain. Ending the first half of the day with a commanding lead, Steve then held his own on the six laps of the motocross test to earn a 31-second margin of victory in front of a delighted home crowd. "It's such a relief to have won the sprint enduro," explained Holcombe. "I've been working for this result for close to eight weeks, at times it's felt like the event was never going to arrive. But the hard work definitely paid off. I didn't feel like I was riding at my limit on the enduro test, but I didn't make any mistakes. I was surprised to win all six tests, but it was the perfect thing with the motocross test in the afternoon. I was able to manage my lead a little then as I knew a few of the riders would be faster than me there. It's been a perfect start to the event, but I know tomorrow's cross-country race is going to be really challenging."
With Steve showing all others the way to go during the enduro test, Nathan Watson (KTM) was very much the rider to beat around the Hawkstone Park motocross test where he topped five of the six laps. Reducing Steve's gap at the top of the results, Watson was ultimately unable to challenge for the day win but took a well-deserved runner-up result and managed to finish 12 seconds ahead of third placed Christophe Charlier (Husqvarna). Missing out on a podium result by just over one-second, Loic Larrieu (Yamaha) place fourth to end the day as the fastest rider on the 12th and final special test. More than one-minute behind Larrieu, Jaume Betriu (KTM) put in a strong performance to finish ahead of several factory-backed riders. Next up was Alex Salvini (Beta) with Matt Phillips (Sherco), Giacomo Redondi (Honda), Cristobal Guerrero (Yamaha) and Deny Philippaerts (Beta) rounding out the top 10.
In the Enduro 2 class three riders set wining times during the six enduro tests but it was championship leader Josep Garcia (KTM) who ended the day as the rider to beat. Placing an eventual 10 seconds ahead of Finn Eero Remes (TM) Garcia extended his championship lead with third on the day going to Jamie McCanney (Yamaha), who saw his chances of fighting for the win ended with one fall on the enduro test and a stalled engine on one of the motocross tests. "Things went really well for me today," explained Garcia. "One of my goals was to make sure I didn't crash, which I managed to do so I'm very pleased. I had some good tests in the morning, on the enduro test, and then on the cross test I pushed but not as much as I could – I managed my lead. I enjoyed racing in the sand here, but it was a difficult day. But nowhere near as difficult as tomorrow is going to be."
With Eero Remes (TM) ending the day as runner-up in Enduro 2, British rider Jamie McCanney (Yamaha) was one rider disappointed with his final result having had the speed to fight for the win. Falling once on the enduro test and stalling his bike once on the motocross test, Jamie ended the day 21 seconds behind Garcia in third. "Third isn't too bad, but if I take away the time I lost on the enduro test in the morning and the motocross test in the afternoon I know I would have been right there with Garcia," commented Jamie. "What's done is done so now I have to focus on the cross-country race. That's going to be really challenging, let's see how that goes." Just four seconds behind Jamie, Danny McCanney (Husqvarna) saw a few mistakes prevent him from finishing on the podium but managed to finish comfortably ahead of fifth placed Davide Guarneri (Honda). Pascal Rauchenecker (Husqvarna), Manuel Monni (TM), Rudy Moroni (KTM), Henric Stigell (Husqvarna) and Jonathan Barragan (Gas Gas) rounded out the top 10.
There was home success in the Enduro Junior class where Brad Freeman (Beta) took an 18-second second margin of victory to close to within just a handful of points of EJ class leader Davide Soreca (Honda). With Swede Albin Elowson (Husqvarna) keeping Freeman on his toes, Freeman and Elowson were in a class of their own placing close to one-and-a-half minutes ahead of third placed Matteo Cavallo (Beta). "Things started off well for me in the morning on the first few runs through the motocross test, but then I just didn't improve my times as the test got faster," explained Brad. "I could see that I wasn't quite as fast as I needed to be so I just tried to stick with it and waited till I got onto the enduro test. I knew that one good test would be enough to get to the top of the results, and pretty much that's what I managed to do. The test was technical but it went well and I won five of the six tests. It's great to win here, I just hope I can do the same tomorrow."
In the 125cc Enduro Youth class competition was close for the podium positions. Chilean Ruy Barbosa (Husqvarna) claimed the win, topping six of the day's special tests to place 14 seconds ahead of placed Leo Le Quere (TM) with class champion Andrea Verona (TM) third.
Day two of the FunnelWeb Filter GP of Great Britain at Hawkstone Park will feature a cross-country race – a first in the history of the EnduroGP World Championship.