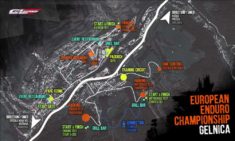 From Friday 13th up to Sunday 15th of October 2017, the final of the Enduro European Championship takes place in Gelnica / Slovakia (nearby Kosice):
More than 120 participants from eleven nations will race the more than 180 km track. In usual Enduro-mode for the first two days. The highlight will be the last day, the traditional motocross on Sunday.
Up to now, no title in no class is decided yet – and with three days left, everything is still possible.
This applies both in the individual classes as well as in the overall scoring.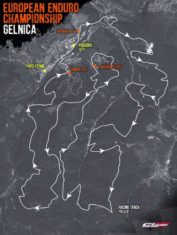 However, three Italians are at the front in the scratch: Junior Matteo Pavoni has only nine points ahead of his countryman Oscar Balletti and another five points in front of the former champion Maurizio Micheluz.
But the two challengers in the back have no advantage, because in the region were already the team-world championships (ISDE) in 2015. There was Pavoni already with the Italian Junior-Trophy. So he will prepared about the situation of the track by his own experience. Just like Balletti, who was in the Italian trophy two years ago.
Maybe this is also the best condition for the team championship in this European Championship. Because the final in Gelnica is not called mini-sixdays for nothing: There will be not only the final in the individual classes, but also at the same time a national rating over the three days.
The organisation in Gelinca is very well done: There will be short ways to the three different tests and the two time-controls. Very easy for all the teams, fans and spectators.
Find the livetiming in the internet: at  http://www.casomeric.cz/enduroonline/
More information and schedules, results and links, there are always up to date and right on the official website:
http://european-enduro.com/
2017:
29th /30th of April                             Gouveia / Portugal  –  www.wecportugal.com
8th/ 9th of July                                    Paikuse / Estonia  –  www.paikuseenduro.eu
5th/6th of August                              Burg / Germany  –  www.enduro-burg.de
13th to 15th of October                  Gelnica / Slovakia  –  www.enduro-gelnica.sk