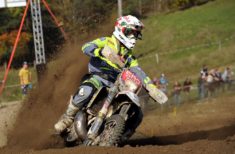 "The Italian Job" – Not just a classic film, but the result of an enduro season:
The third and last day of the final round of the Enduro European Championship took place in Gelnica / Slovakia, on Sunday, 15th of October 2017. But the result seems rather mediteran, because in the overall rating of all riders, three Italians were at the top of the podium: The new overall champion is the Junior Matteo Pavoni, who is also champion in the junior class !E1! on the 250th four-stroke KTM.
His already 34 year old countryman Maurizio Micheluz,took second place and Oscar Balletti cam third, both on a 300cc Husqvarna-2-stroke bike.
On this last day in the season, only the final motocross should be count. But on the way, the favorite for the motocross, the Czech Jaromir Romancik crashed on the stage and injured his face. Fortunately not hard, because in the end he could still win the day, not only in his E2 class, but also in the overall evaluation.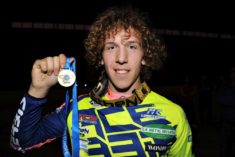 The real fight for the European Championship took place in the sixth race: In the race of his class Micheluz had presented the time, at which Pavoni would have to be measured. In fact, the junior in his race with the seven rounds, needed not quite longer as a second and was able to defend his championship. But for Micheluz, it was enough for the European Championship title in the E3 class, ahead of his fellow competitor Balletti.
So it is no wonder, that the three together with their countryman Lorenzo Macoritto, also brought the national trophy to Italy. Macoritto had even been the second-fastest of all riders in the final motocross.
In the junior class, the 20-year-old, Joakim Grelsson was already the champion. His Swedish national, Calle Johansson, was still Vice-Champion, while the Frenchman Neels Theric was placed third. These were the three special prices that the promoter Wolfgang Butzner had donated: a work pavilion and Metzeler tires for tosupport the youngest riders.
In the senior E2 class the Briton Jamie Lewis once again showed his skills and became second behind the guest starter and cross-specialist Romancik and secured himself on his Yamaha the title before the German Marco Neubert and the Sweden Oliver Nelson.
With the veterans, the decision in the championship was still outstanding. But in the beginning the leader in the championship, Arne Domeyer, was only third after the first lap, while his German countryman Sven Kiedrowski had taken the lead from the title defending champion Sebastian Krywult from Poland. Displacement technology, Domeyer was under these two riders, but he could still move past Krywult and secure the title.
Riders, Teams and new organizers are already planing the upcoming season 2018.
More is coming soon this way.
More information and schedules, results and links, there are always up to date and right on the official website: http://european-enduro.com/