GARCIA, FREEMAN & FRANKE ALL CROWNED WORLD CHAMPIONS ON DAY TWO OF GP OF GERMANY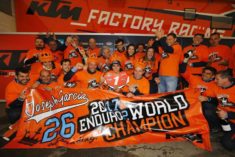 The final day of the 2017 Maxxis FIM EnduroGP World Championship – the Acerbis GP of Germany in Zschopau – saw no fewer than three riders secure world championship honours. Spain's Josep Garcia (KTM) was crowned Enduro 2 World Champion, Britain's Brad Freeman (Beta) put the finishing touches to his Enduro Junior campaign, while Germany's Maria Franke (KTM) secured the Enduro Women's title following the retirement of her title rival Laia Sanz (KTM).
Following heavy overnight rain the 16th and last day of 2017 EnduroGP World Championship was unquestionably a challenging one. Needing to claim just a handful of points, Josep Garcia made a strong start to the day as he battled with McCanney brothers Jamie and Danny at the top of the Enduro 2 class. Easing his pace a little as the day neared its close, Garcia's fifth place result was more than enough for the Spaniard to win his first world championship title. "I don't really have the words to describe what it feels like to be world champion," admitted Garcia. "This is a victory for all of the team. It was a difficult day today, with the rain we had last night, but I like muddy conditions. Also, I had some points on my side, so I knew that I didn't need to win to secure the championship. I pushed hard enough, but without taking any chances. It's been an incredible year." With Garcia lifting the Enduro2 World Championship, Jamie McCanney (Yamaha) ended his season on a high note with victory over his brother Danny – winner on day one. Claiming his 13th podium of the season, Jamie finished four seconds ahead of Danny with Finn Eero Remes (TM) 58 seconds behind in third.
Steve HOLCOMBE (GB – Beta)
Not needing to prove himself in any way, having lifted the EnduroGP World Championship title with a winning ride on day one, Steve Holcombe (Beta) rounded out the GP of Germany in perfect fashion by topping the result sheets ahead of Loic Larrieu (Yamaha) with Christophe Nambotin (KTM) finishing third. With the top three riders separated by 44 seconds, fourth placed Matthew Phillips (Sherco) placed close to two minutes behind. "Winning the title yesterday was amazing, but finishing the championship with a double class win is pretty special," explained Holcombe. "It's my first double class win, and I wanted to make sure I won the Mika Ahola Enduro Test award. The conditions certainly made things tougher today, but it was great – a real enduro. To finally have a wet race was a nice way to end the championship."
One of the closest championship battles was played out in the Enduro Junior class where Brad Freeman (Beta) and Davide Soreca (Honda) took the fight for championship honours down to the very last special tests. With Freeman looking like he'd done enough to win having opened up a healthy lead with just one lap remaining, a rear brake issue during the final enduro and extreme tests saw Soreca close to within five seconds with just the final motocross test remaining. Posting the second outright fastest time, Freeman topped the special test, the day and with it the championship. "What a day. What a season. I can't believe it," commented Brad. "I was having a great day, doing exactly what I needed to do, and was about 30 seconds ahead. I was ready to calm things down and just make sure I got to the finish when three corners into the final enduro test a stick went through my rear brake and jammed it on. It kept sticking on, I lost about 15 seconds. "Then I lost my rear brake all together. I rode the final extreme test with no rear brake, which was interesting. It pretty much all came down to the final cross test and I went for it. I gave it everything. I'm so, so happy. From missing the opening round of the series in Finland I can't believe I'm world champion."
In the Woman's class the head-to-head battle between Maria Franke (KTM) and Laia Sanz (KTM) failed to materialise as Sanz was forced to retire after just two special tests following a technical issue. Winning the day by more than two minutes, Maria Franke secured her first ever world championship title "My dream was always to win a world title in motocross but to win an enduro title here in Germany is incredible," commented Franke. "I worked hard during the off-season to be ready to challenge for this title, and that hard work was certainly worth it. I feel sorry for Laia because it is never nice to have technical problems. But this is a very special moment for me, it's great to finally win a world championship."
France's Leo Le Quere (TM) brought his participation in the 125cc Enduro Youth championship to a winning close, topping the class by 47 seconds. Third on day one, Le Quere topped each of the day's opening six special tests on day two before easing his pace and securing the win. Ruy Barbosa (Husqvarna) claimed the runner-up result with Finn Roni Kytonen (Husqvarna) rounding out the podium.