ROCKSTAR ENERGY HUSQVARNA FACTORY RACING RIDER WRAPS UP ENDUROGP SEASON WITH A WIN AND A RUNNER-UP RESULT IN ZSCHOPAU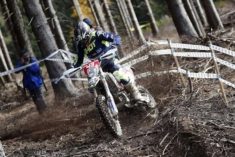 Ensuring a highly positive end to his 2017 Enduro 2 World Championship campaign, Rockstar Energy Husqvarna Factory Racing's Danny McCanney claimed E2 class victory on the first day of competition at a challenging EnduroGP of Germany. Wrapping up the eighth and final round of the series on a high note, the TE 250 powered rider went on to secure a strong runner-up result on day two in Zschopau.
Taking place in the district of Saxony, the EnduroGP of Germany had all the ingredients of a real enduro event. Making full use of his experience in challenging conditions, in Germany Danny McCanney was finally able to show his true potential. Topping the Enduro 2 class standings by more than 10 seconds on Saturday, the Manxman battled through some minor crashes to claim a runner-up result on Sunday.
Wrapping up the season with one victory and a total of four top three class results, McCanney earned fifth in the 2017 Enduro 2 World Championship final standings. Ending the 2017 season one step above Danny was his Rockstar Energy Husqvarna Factory Racing team partner Pascal Rauchenecker.
For Rauchenecker, the highlight of the EnduroGP of Germany was his Enduro 2 class victory during the short opening Super Test on Friday evening. Putting in two good performances during the weekend, the FE 250 powered rider wrapped up the season finale with fifth on day one and then seventh on day two. Pascal earned a solid fourth in the 2017 Enduro 2 World Championship.
Rockstar Energy Husqvarna Factory Racing's official EnduroGP class representative Christophe Charlier claimed an eighth-place result on the first day of the German GP. Feeling the effects of a hand injury on day two, the Frenchman was unable to finish the last day of competition in 2017. Collecting three podium results this season, Christophe wrapped up his rookie season in enduro competition with ninth in the 2017 EnduroGP World Championship standings.
Danny McCanney: "This has been my best GP for the season and I'm really happy about it. I've left it for a bit late maybe, but I made some changes coming into the weekend. I always knew the speed was there but I always felt like something was missing during the season. Now I found it and this is where I need to be. I liked the tests here in Germany and I was well-prepared for the GP. I got faster and faster as the weekend went on and that was really positive. I'm really happy I got the win on Saturday. On Sunday I had two crashes early in the morning so I knew it would be a struggle to catch back up with the leading riders. I had another crash in the extreme test but kept pushing hard to end the day with second in Enduro 2."
Pascal Rauchenecker: "It's been a difficult GP but I did my best to wrap up the season with strong results. The enduro test was long and treacherous and the extreme test had some tricky uphills where it was easy to make a mistake and lose time. I did my best during both days and managed to get two top seven results. The most important thing is that I managed to secure fourth in the Enduro 2 championship. I enjoyed the season a lot and I'm happy with that result. The fans were really great here in Germany and it was good to end a long season with such a good event."
Christophe Charlier: "It's not been my best weekend, but I'm happy with the progress made during the season. To be honest, I struggled a bit with my finger injury and with the tracks in Germany being demanding it was impossible to finish day two. This has been my first season in the EnduroGP championship and it's been a good one. I've learned so much and now I know exactly what I need to focus on to get even better in the future. This year I won the Italian Enduro Championship and was part of the winning team at the Motocross of Nations and the ISDE. It's been a year to remember for me and I can't thank enough all the members of the Rockstar Energy Husqvarna team for helping me get to where I am."
Results – 2017 FIM Enduro World Championship, Round 8
Day 1
EnduroGP
1. Steve Holcombe (Beta) 53:42.03; 2. Christophe Nambotin (KTM) 54:02.42; 3. Loic Larrieu (Yamaha) 54:10.58; 4. Matthew Phillips (Sherco) 54:19.03; 5. Giacomo Redondi (Honda) 55:12.58… 8. Christophe Charlier (Husqvarna) 56:22.67… 15. Dennis Schroeter (Husqvarna) 58:10.78
Enduro 2
1. Danny McCanney (Husqvarna) 54:03.71; 2. Josep Garcia (KTM) 54:15.37; 3. Jamie McCanney (Yamaha) 54:16.81; 4. Davide Guarneri (Honda) 54:25.99; 5. Pascal Rauchenecker (Husqvarna) 55:20.68… 9. Thomas Oldrati (Husqvarna) 57:31.79… 11. Henric Stigell (Husqvarna) 57:45.11
Day 2
EnduroGP
1. Steve Holcombe (Beta) 58:27.64; 2. Loic Larrieu (Yamaha) 58:57.98; 3. Christophe Nambotin (KTM) 59:12.38; 4. Matthew Phillips (Sherco) 1:01:03.58; 5. Giacomo Redondi (Honda) 1:01:05.51… 10. Dennis Schroeter (Husqvarna) 1:05:03.72
Enduro 2
1. Jamie McCanney (Yamaha) 59:38.66; 2. Danny McCanney (Husqvarna) 59:42.69; 3. Eero Remes (TM) 1:00:41.30; 4. Davide Guarneri (Honda) 1:00:42.78; 5. Josep Garcia (KTM) 1:00:42.96… 7. Pascal Rauchenecker (Husqvarna) 1:02:06.32… 9. Thomas Oldrati (Husqvarna) 1:02:22.85; 10. Henric Stigell (Husqvarna) 1:02:28.77
Final Championship Standings
EnduroGP
1. Steve Holcombe (Beta) 350; 2. Loïc Larrieu (Yamaha) 302; 3. Nathan Watson (KTM) 259; 4. Matthew Phillips (Sherco) 252; 5. Christophe Nambotin (KTM) 222… 9. Christophe Charlier (Husqvarna) 170… 12. Antti Hellsten (Husqvarna) 84; 13. Mathias Bellino (Husqvarna) 81; 15. Ramon Quer Molgo (Husqvarna) 40; 16. Marko Tarkkala (Husqvarna) 38… 21. Craig Norrey (Husqvarna) 20… 23. Billy Bolt (Husqvarna) 17; 29. Mike Brown (Husqvarna) 14… 36. Ondrej Helmich (Husqvarna) 9
Enduro 2
1. Josep Garcia (KTM) 350pts; 2. Jamie McCanney (Yamaha) 344; 3. Eero Remes (TM) 309; 4. Pascal Rauchenecker (Husqvarna) 274; 5. Daniel McCanney (Husqvarna) 254… 7. Henric Stigell (Husqvarna) 196… 11. Thomas Oldrati (Husqvarna) 178… 33. Oscar Balletti (Husqvarna) 4; 34. Damiano Lullo (Husqvarna) 3… 36. Mikael Miettinen (Husqvarna) 2