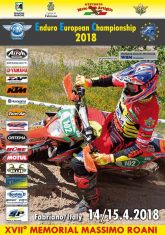 The next season of Enduro riders in the European Championship starts on 14th /15th of April 2018 in Fabriano, Italy (200 km north of Rome). As in all the years, there are a total of four different competitions all over Europe.
This year, the classification has received a revision: For the riders, there are now four different displacement classes, divided into two-stroke and four-stroke engines.
There is the class up to 250 cc two-stroke and over 250 cc two-stroke
Analogously, the four-strokes were also divided into: up to 250 cc four-stroke and over 250 cc four-stroke is the new classification.
In the 125-class for the youngest riders, the age has been increased to 21 years. In the normal junior-classes, which are up to 23 years, the two engine capacity classes as last year.
Remained are the "seniors", "ladies". Completely new is the electric bike class: Here one does not (yet) fight for a title in the European Championship, but the FIM Europe would like to keep the door open for upcoming developments. The number of special stages, the route and the length is completely up to the organizer.
The riders have no choice in the protective clothing: As internationally appointed, a back protector and chest protection is required: this must also comply with the test numbers EN1621-2 or EN 1621-3.
The starting signal for the new season will be on April 14th 2018: Then there will be three laps over sixty kilometers through the grounds and with three different special-tests every lap..
Last year overall champion, the italian KTM-rider Matteo Pavoni will be ther, to defend his title: Last year still riding in the junior class with the small displacement, the Italian is on the KTM in the class E2 / E3 with the big displacement in Fabriano. He is the big favorite this weekend.
With 18 registered women, the ladies' class is more represented than ever!
Dates 2018
14th/15th April Fabriano / Italy www.motoclubartiglio.it/
19th /20th May Bacau / Romania www.motoxcape.ro/
11th /12th August Skövde / Sweden www.skovde.fmck.se/
14th -16th September Kielce / Poland https://www.pzm.pl/motocykle
As in 2017, the final in Poland will take three days of competition, with a final motocross.