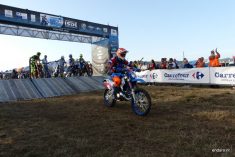 Bron: KNMV. Eén dag voor dat de deadline van de pre-entry voor de Enduro Zesdaagse (ISDE 2018) in Chili afliep heeft de KNMV de voorlopige aanmelding gedaan:
World Trophy team : 4 rijders
Club Teams: 11 rijders
Of er een Nederlands WTT naar Chili afgevaardigd gaat worden, is afhankelijk of endurorijders voldoen aan de hiervoor opgestelde selectiecriteria. Na de tweede EK enduro in Roemenië (19 & 20 mei a.s.) zal het KNMV bestuur hierover een besluit nemen.