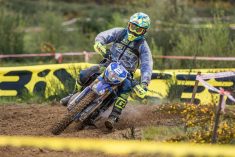 HOLCOMBE Sails Through…
The locals will tell you… the weather in Galicia is very changeable! And on the last Sunday in April, the heavens opened and poured torrents of water, and sometimes even hail, on the second day of the 2018 Spanish World Enduro Grand Prix. Which, you can imagine, made life difficult for even the elite riders in the discipline – juggling fast pace against quagmires, puddles, and extremely slippery and tricky terrain.
Surprises, twists and turns happened from special to special, and shook up the standings throughout the day – especially in the EnduroGP category; after a brilliant E3 win on Day 1, Danny MCCANNEY (GB – Gas Gas) was one of the unluckiest riders, despite a perfect start to the day. An issue with the front wheel plunged him into the depths of the rankings … and, in fact, all the main players in EGP suffered various falls and slip ups. But the one who was best able to limit the errors was Steve HOLCOMBE (GB – Beta), and he took an important victory, despite crashing on a slope in Enduro Test 1 – fortunately without damage to the bike or himself. Leader of the EGP class, factory TM rider, Eero REMES (SF – 5th), also suffered a few errors which kept him out of the podium battle.
NAMBOTIN & LARRIEU believed in it…
Following a very good start this morning, Christophe NAMBOTIN (F – Gas Gas) longed for the overall victory, but he lost time on the third lap, which relegated him to just 7th place. Ditto for his compatriot Loïc LARRIEU (F – Yamaha Outsiders) who looked on course for the win before losing 40 seconds in Extreme Test 3. Steve HOLCOMBE who found himself down in 6th position at the end of the first lap, pulled the pin and went on to set the fastest times in tests 6, 7, 8, 9, 10 and 12! And take his first 'scratch' success of 2018. Only a very strong and determind Alex SALVINI (I – Husqvarna) was able to worry the Brit, he kept up the pace and took to the EGP podium, just behind an impressive Jamie MCCANNEY (GB – Yamaha). After his disappointments of Day 1, where he took a 7 minute penalty, Christophe CHARLIER (F – Beta) showed he can never be counted out! He was 6th, while Brad FREEMAN (GB – Beta Boano) and Antoine BASSET (F – Gas Gas) completed the TOP 10 along with an excellent Luis OLIVEIRA! Meanwhile, Matthew PHILLIPS (AUS – Sherco) finished just outside the Top 10 (11th)…
Jamie MCCANNEY had no rivals to match up to his impressive form in E1 today, even if his compatriot Brad FREEMAN was also very strong (2nd), ahead of Antoine BASSET. The Gas Gas rider took his first podium in three years, despite coming under attack from Spain's Victor GUERRERO (E – Yamaha) and Finland's Eemil POHJOLA (Gas Gas).
Alex SALVINI enjoyed a superb double in E2 after an intense battle with Loïc LARRIEU and Eero REMES. But Christophe CHARLIER (4th) is expected to improve race by race and will likely have something up his sleeve as the season goes on, as will the spectacular Sherco rider, Matthew PHILLIPS (6th).
Jamie MCCANNEY & SALVINI Double Up!
Like most Brits, Jack EDMONDSON (GB – Sherco) was very quick in the Junior class in the challenging 'deluge' race conditions. But he also made a lot of mistakes and in the end it was the extremely talented and promising Andrea VERONA (I – TM) who won this second day in the overall Junior category, in front of his compatriot Davide SORECA, for a historic double TM podium!
And both these TM riders also took victories in their respective categories…
Andrea VERONA won the J1 (under 250cc) class, ahead of the promising Frenchman Theo ESPINASSE (Sherco) and Belgian hopeful Antoine MAGAIN (KTM) – who took his first podium after two seasons of improvements.
Davide SORECA returned to success in the J2 (+ 250cc) class, with a large lead over his rival Matteo CAVALLO (I – Beta Boano) and France's David ABGRALL (F – Sherco), who is also brilliantly rewarded for all his efforts and panache.
History made with VAN OEVELEN and Belgium!
Tonight the beer ought to be flowing abundantly among the Belgian supporters! Indeed after Antoine MAGAIN's first podium in Juniors, his compatriot Matthew VAN OEVELEN (B – Sherco Academy) won the Youth 125cc category! After struggling a little on Day 1, and "only" managing a podium, the young protégé of Didier Valade felt at home on the wet Galician ground, and clearly outpaced Hugo SVARD (SF – Husqvarna) and the Chilean Ruy BARBOSA (Husqvarna). This is a historic victory because VAN OEVELEN gives Belgium its first ever win in the history of the World Enduro! Hamish MACDONALD (NZ – Sherco) took a great 4th in his debut, and Joakim GRELSSON (S – KTM), 5th, lost out. As did Marcus ADIELSSON (S – Yamaha) and Roni KYTONEN (SF – Husqvarna). But that this Youth 125cc category is always brilliant to watch, and this is where these young riders from 16 to 21 years old offer a remarkable show and shine with their enthusiasm and talent.
The EnduroGP 'family' will leave a spectacular but wet Galicia tomorrow, hoping to find more "arid" and dry lands 600 kms away… heading south! Indeed, next weekend, the 3rd round of the season will be held in Castelo Branco for the Polisport Grand Prix of Portugal which promises to be very open and thrilling again!
What They Said:
Steve HOLCOMBE: "At last a victory… I'm very happy of course! The day was difficult because of the weather but nothing impossible or dangerous. We had just made some adjustments with the suspension on my Beta and now we'll head for the GP of Portugal!"
Alex SALVINI: "It was a very physically and mentally tiring day… but I've made good ground in E2 and another EGP podium is a great start to the season for me."
Jamie MCCANNEY: "The day was long… very long! Finishing 2nd in EnduroGP is great… especially since my main rivals used soft tyres, unlike me. My Yamaha worked perfectly in these extreme conditions and I want to thank all the Yamaha Outsiders Team for their excellent work."
Christophe CHARLIER: "I'm probably one of the few who has not crashed today! It has been amazing for me, discovering these racing conditions on my factory Beta. But unfortunately I hit a post in the last Enduro Test and it got stuck in my back wheel which made me lose a lot of time… it's a shame!"
Anthony GESLIN: "I'm very happy… of course I did take advantage of the problems which befell Danny MCCANNEY, but the race is like this, and to achieve a Senior podium in World Enduro gives a feeling of intense happiness and makes you forget the months and years of efforts and sometimes of suffering!"
Matthew VAN OEVELEN: "The day started badly… I took in some water in the first Enduro Test which made me lose a lot of engine power – then I fought back all the way to the finish! Hearing the Belgian National Anthem on the podium was a great emotion and I hope that this first victory will further promote Enduro in Belgium!"