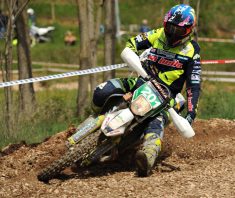 Bacau the Second
This is not only the second round of the season in Bacau, Romania, this coming weekend, 19-20 May 2018, but also the second time that the European Enduro Championship will stop there.
Already in 2014 the riders were guests in the northeastern part of Romania and had found there a demanding and well prepared enduro competition by the lokal X-cape-organisation for these two days.
This year, a 50 km long track is planned, which will be passed four times a day. Two special stages each with four (cross-test) and seven kilometres (enduro test) length are integrated in it.
The paddock and administration is once again on the modern Business and Exposition Centre CAeX on the western outskirts of the city.
This time more than 100 participants are already registered and of course none of the favourites can miss this race.
One of these favourites is the only 19-year-old Italian Lorenzo Macoritto, who had already finished the first race in second position overall. However, the Husqvarna rider may have had some home advantage in Fabriano, Italy. But Junior has to convince abroad now.
His 35-year-old compatriot Maurizio Micheluz, however, who had already been European champion, has a lot of international experience – spicily exactly in the year in which the European Championship round had already been in Bacau.
Not only the constellation of old against young promises tension, but also the question of how the other nations will fight for the crown.
Find the live-timing for the competition directly: www.casomeric.cz/enduroonline
Attention, compared to most European countries, Romania is in a different time zone, one hour ahead of time.
More information and schedules, results and links, there are always up to date and right on the official website:
http://european-enduro.com/
Dates 2018
14th/15th April Fabriano / Italy www.motoclubartiglio.it/
19th /20th May Bacau / Romania www.motoxcape.ro/
11th /12th August Skövde / Sweden www.skovde.fmck.se/
14th -16th September Kielce / Poland www.ktmnovi.nl
As in 2017, the final in Poland will take three days of competition, with a final motocross.