Bacau for the Juniors at the first day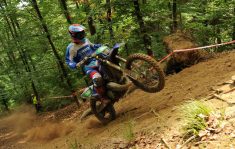 At the first day of the second round of the European Enduro Championship in Bacau, Romania, the Frenchman Hugo Blanjoue won on his KTM: At 23 years of age, he is still just a junior and is thus leading the Young Wilds in the overall standings:
With second place it was the Swede Erik Appelqvist and third place overall in the standings of the Czech Krystof Kouble, who all come from the junior class of the large-capacity E2/E3 motorcycles.
After his overall victory at the first round in his home country, the Italian Alessandro Battig spontaneously decided to compete in the other rounds of the European Championship too. Battig won his class, but in the overall classification the Kawasaki rider took the sixth place "only", but keept his lead in the championship.
Two more class victories went to his Italian compatriots:
In the two-stroke class up to 250 cc Maurizio Micheluz won on the Husqvarna and in the four-stroke class up to 250 cc the KTM mounted Tommaso Montanari.
Only in the two-stroke class over 250 cc was not an Italian fastest on the day, but the Czech Jiri Hadek on his KTM.
In the women's competition, the Dutch rider Nina Klink clinched her days victory in the first round: She was the only one to climb the difficult uphill in the special stage with almost no problems. Their rivals had to push and fight and lost so much time that the best oft hem got a quarter of an hour penalty time.
With this lead in her back, the KTM rider was unstoppable.
But this demanding uphill was also a problem for the men, so that the organizer took this section off for the second day.
The riders were particularly lucky, because the sky opened its locks and released a storm with heavy rainfall as soon as the last rider crossed the finish line.
But the clerk of the course promised that this would only bind the dust and the track would be in even better condition for Sunday.
Find the live-timing for the competition directly: www.casomeric.cz/enduroonline
Attention, compared to most European countries, Romania is in a different time zone, one hour ahead of time.
More information and schedules, results and links, there are always up to date and right on the official website: http://european-enduro.com/