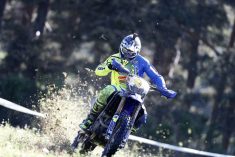 Mende, France – June 9, 2018 — The Trèfle Lozérien AMV delivered more dramatic action at the third stop of the World Enduro Super Series as day one winner Marc Bourgeois (Yamaha – FRA) crashed out, allowing Emmanuel Albepart (Yamaha – FRA) to charge to victory. After Bourgeois pushed through for the win on the opening day of racing, his luck turned sour on the second day's second special test. Albepart took control of the proceedings and provisionally leads the overall standings heading into the third and final day of racing.
Feeling at home during the morning's slippery conditions, Bourgeois set the fastest time in the opening special test ahead of Albepart by just nine thousandths of a second, with top Junior talent Theo Espinasse (Sherco – FRA) a further one-second back in third. But the standings were turned on their head following test two when Bourgeois exited the race with an injured leg. Grabbing a test win, Espinasse brought the fight to Albepart who placed third fastest.
Back in charge for test three, Albepart pulled a gap on his young Sherco rival but Espinasse was not to be outdone and retaliated by levelling the scores in test four. Entering the fifth and final special test of the day it was all to play for between the duo. Despite another attack from the Sherco rider, Albepart had enough in hand to secure the day's overall win and provisionally take control of the race lead heading into Sunday's third and final day of racing.
Claiming a stage win, Yamaha's Julien Gauthier (FRA) ended his day in third, while Larrieu regrouped from a poor opening test to come back to fourth overall. Enjoying a much-improved outing, Spain's Josep Garcia (KTM) was best-placed of the non-French riders in fifth. WESS championship leader Jonny Walker (KTM – GB) built on his day one position to move up to ninth.
For day three the 600 competitors contest the Margeride circuit. The starting order for the third and final day of racing will see the amateur riders start first followed by the Pro class. At the end of the 150-kilometre loop the racing concludes with a motocross final for the top 30 in the overall classification.
Theo Espinasse (Sherco – FRA): "I'm really happy with how things are going so far. As a Junior rider to be pushing for the overall victory is incredible for me. Day two was strong. I had a good feeling with the bike and didn't make many mistakes, which was key. I'm looking forward to tomorrow because the top riders start last and so there will be a better racing line. I'll try to give it my best and win."
Loic Larrieu (Yamaha – FRA): "It's been a difficult day for me with some mistakes and just not riding with a good rhythm. After yesterday's result I think I tried to push too much this morning and was caught out by the slippery tests. I lost too much time on the opening test and wasn't fast enough on the motocross stage. The start order is reversed for tomorrow so there should be a line cut in for the top riders. I'm not too far off the lead but will have to give maximum effort to win."
Josep Garcia (KTM – ESP): "Today was much better than yesterday. On day one I pushed too hard in the first liaison section and had a big crash — the bike was quite beaten up. I wasn't feeling right with the bike and then crashed again in the special test, so the rest of the day was catch up. I started good today — smooth, fast and most importantly with no crashes. I'm pleased with my ride and with tomorrow's reversed starting order I'm hoping I can continue to improve."
Johnny Aubert (Gas Gas – FRA): "My day wasn't as good as day one. I struggled a little with the slippery conditions on the grass during the morning. But I ended it on a high note by winning the final test, so I know my speed is good with just one day of racing left."
Results: WESS Round 3 – Trèfle Lozérien AMV, Day 2
1. Emmanuel Albepart (Yamaha – FRA) 17:50.945; 2. Theo Espinasse (Sherco – FRA) 17:51.132; 3. Julien Gauthier (Yamaha – FRA) 17:52.872; 4. Loic Larrieu (Yamaha – FRA) 17:56.210; 5. Josep Garcia (KTM – ESP) 18:02.232; 6. Johnny Aubert (Gas Gas – FRA) 18:13.484; 7. Jeremy Miroir (Husqvarna – FRA) 18:19.245; 8. Nathan Watson (KTM – GB) 18:22.379; 9. Jonny Walker (KTM – GB) 18:24.622; 10. Pierre Vissac (Beta – FRA) 18:24.866…
Trèfle Lozérien AMV 2018 Schedule
•    Friday, June 8: Gorges du Tarn circuit
•    Saturday, June 9: Gévaudan Aubrac circuit
•    Sunday, June 10: Margeride circuit
Paddock located in the heart of Mende at Place du Foirail.
Trèfle Lozérien AMV Event Information
Website: www.trefle-lozerien-amv.com
Facebook: TrefleLozerienAMV
Instagram: @treflelozerienamv
Twitter: @Trefle_Lozerien