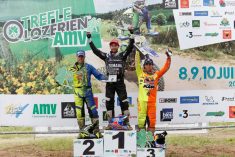 Mende, France – June 10, 2018 — Yamaha's Loic Larrieu has claimed a home win at round three of the World Enduro Super Series – France's Trèfle Lozérien AMV.
With the outcome of this year's overall victory going right down to the 15th and final special test of the three-day race, it was Larrieu who could finally breathe easy after claiming his debut victory at France's most important Classic Enduro. Pushing him all the way, rising French talent Theo Espinasse claimed second for Sherco Factory Racing, while a day three win for Red Bull KTM Factory Racing's Josep Garcia (ESP) lifted him to third in the overall classification.
With three manufacturers filling out the top three podium positions, Yamaha continued their domination of the event by securing their 20th win. In the WESS championship standings, a very impressive 10th overall by KTM's Jonny Walker sees the Brit maintain his championship points lead.
For day three of the Trèfle Lozérien AMV the starting order of the 600 competitors was reversed allowing the amateur riders to lead the pro riders out on the 150-kilometre long Circuit de la Margeride course. With a more defined racing line cut into the special tests it lessened the advantage of some of the grass track specialists. Eager to make up for Friday's lost time, Garcia was on a charge from the off and immediately set the fastest time on the opening special test from Larrieu and Julien Gauthier (Yamaha – FRA), while provisional leader Emmanuel Albepart (Yamaha – FRA) was nearly five seconds back in 10th.
As the day continued, so too did Garcia's unrelenting pace. Fastest on tests two, three and four, the Spaniard had worked his way back into winning contention with just one stage remaining. With everything to play for, Larrieu held advantage as the new provisional leader, but nothing was certain.
Determined to make it third time lucky at the Trèfle Lozérien AMV, Larrieu laid everything on the line to deny Garcia a clean sweep of day three tests wins and in doing so secured victory at the third stop of WESS. Despite a seventh-place finish on day three, Espinasse had enough in hand to maintain his runner-up position in the event. Spurred on by his day three performance, Garcia ended round three in third overall and just one second behind Espinasse.
Not enjoying the best of days, Albepart slipped off the top step of the podium to fourth, while Gauthier — consistent throughout — completed the top five. Gas Gas Factory Racing's Johnny Aubert (FRA) finished a comfortable sixth, while just four hundredths of a second separated Nathan Watson (KTM – GB) and Jeremy Miroir (Husqvarna – FRA) in seventh and eighth respectively. Pierre Vissac (FRA) brought his Beta home in ninth.
Putting in a consistently strong performance throughout the three-day race, Walker's final position of 10th was enough to ensure he maintains his lead in the WESS championship after three rounds.
The World Enduro Super Series continues with round four at Red Bull Romaniacs in Sibiu, Romania on July 24-28.
Loic Larrieu (Yamaha – FRA): "I've been trying to win this race for three years, so to finally get it done is a special moment for me. With it included in WESS it certainly added to the pressure, competition and prestige. It's always been important to win here but this was probably one of the most competitive years yet. After my mistake on day one I came back well and just chipped away at things, always fighting for the race lead. It was only until I finished the final special test that I could think about celebrating. Also helping Yamaha to their 20th victory in this race means a lot too."
Theo Espinasse (Sherco – FRA): "I'm so happy to take second place this weekend. With it being a round of WESS there's so many fast riders here and the competition is very tight. In general, it's been a very good three days of racing. I felt strong all weekend and despite still only being a Junior rider I was able to race and beat some of the world's best Enduro riders, which is incredible for me."
Josep Garcia (KTM – ESP): "To end the event on the podium in third is a really good result for me. Things didn't start too well on Friday when I crashed in the liaison and then in the special test. I lost a lot of time and needed to adjust my riding in these slippery grassy conditions. I felt much stronger today and was able to push. I really enjoyed it and was able to take today's win. That also gave me third overall in the race, so it was a perfect end to things."
Jonny Walker (KTM – GB): "I've really enjoyed my time here in France. Despite initially feeling out of my comfort zone in Classic Enduro I feel like I adapted well. Tenth overall is a strong result to take away from round three. There are some incredibly fast grass track specialists and so it was always going to be tough to challenge for a podium result. But to finish 10th and also increase my lead in the series is fantastic."
Results: WESS Round 3 – Trèfle Lozérien AMV
Overall Classification
1. Loic Larrieu (Yamaha – FRA) 51:05.319; 2. Theo Espinasse (Sherco – FRA) 51:16.117; 3. Josep Garcia (KTM – ESP) 51:16.819; 4. Emmanuel Albepart (Yamaha – FRA) 51:18.943; 5. Julien Gauthier (Yamaha – FRA) 51:21.246; 6. Johnny Aubert (Gas Gas – FRA) 51:39.191; 7. Nathan Watson (KTM – GB) 51:56.348; 8. Jeremy Miroir (Husqvarna – FRA) 51:56.388; 9. Vissac Pierre (Beta – FRA) 52:18.748; 10. Jonny Walker (KTM – GB) 52:35.836…
Day 3 Classification
1. Josep Garcia (KTM – ESP) 17:08.788; 2. Loic Larrieu (Yamaha – FRA) 17:21.666; 3. Julien Gauthier (Yamaha) 17:31.299; 4. Johnny Aubert (Gas Gas – FRA) 17:31.366; 5. Nathan Watson (KTM – GB) 17:31.529; 6. Jaume Betriu (KTM – ESP) 17:31.544; 7. Theo Espinasse (Sherco – FRA) 17:34.476; 8. Albin Elowson (Husqvarna – SWE) 17:38.474; 9. Emmanuel Albepart (Yamaha – FRA) 17:39.675; 10. Jeremy Miroir (Husqvarna – FRA) 17:40.896…
World Enduro Super Series (After Round 3)
1. Jonny Walker (KTM – GB) 2130pts; 2. Manni Lettenbichler (KTM – GER) 1865pts; 3. Billy Bolt (Husqvarna – GB) 1830pts; 4. Graham Jarvis (Husqvarna – GB) 1818pts; 5. Taddy Blazusiak (KTM – POL) 1445pts; 6. Josep Garcia (KTM – ESP) 1425pts; 7. Paul Bolton (KTM – GB) 1262pts; 8. Wade Young (Sherco – RSA) 1220pts; 9. Travis Teasdale (Beta – RSA) 1030pts; 10. Nathan Watson (KTM – GB) 1008pts…
Full event results can be found here on iridewess.com
Photo credit: Future7Media
Website: iRideWESS.com
Red Bull TV: redbull.tv/WESS
Instagram: instagram.com/iRideWESS
Facebook: facebook.com/iRideWESS
Twitter: twitter.com/iRideWESS
WORLD ENDURO SUPER SERIES – 2018 SCHEDULE
Rnd 1. Extreme XL Lagares (Portugal) May 11-13
Rnd 2. Erzbergrodeo (Austria) May 31-June 3
Rnd 3. Trèfle Lozérien AMV (France) June 8-10
Rnd 4. Red Bull Romaniacs (Romania) July 24-28
Rnd 5. Red Bull 111 Megawatt (Poland) September 8-9
Rnd 6. Hawkstone Park Cross-Country (England) September 22-23
Rnd 7. Gotland Grand National (Sweden) October 26-27
Rnd 8. Red Bull Knock Out (The Netherlands) November 10