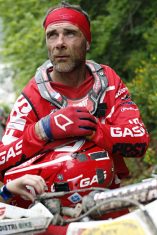 Wels, Austria – June 15, 2018 — When round three of the World Enduro Super Series stopped in France for the Trèfle Lozérien AMV it attracted the world's best Enduro riders and also many legends of the sport, including Antoine Meo and Johnny Aubert.
Multi-time world champions and stars of the 2018 Dakar Rally, both Red Bull KTM Factory Racing's Meo and Gas Gas Factory Racing's Aubert gave it their all in France's most-important Classic Enduro, despite promising that they were only racing for fun. Both former winners of the Trèfle Lozérien AMV, it's an event that ranks high on their must-do list each year.
For 2015 winner Aubert, the presence of WESS enticed him to chase a podium result, battling hard each day and claiming special test wins for sixth overall. Meo — opting for a higher start number to ride side-by-side with the amateur riders — finished a more relaxed 16th overall out of the 600 competitors entered.
"The Trèfle Lozérien AMV is simply one of the races I look forward to most each year," tells Aubert. "It's unique and special, there's a different atmosphere — everyone is here to have a good time riding Enduro bikes."
Enjoying the moment is something that Meo whole heartedly agrees with…
I've enjoyed myself a lot," says Meo. "I decided to ride with a higher start number to be among the amateur and hobby riders. Riding the liaisons sections and mountain top trails with them was a lot of fun. It was nice to see a different side of the race instead of always fighting for the win — we had a good time."
Capping off his time in the three-day race with sixth overall and finishing just over 20 seconds from the podium, Aubert was pleased with his results. But showing his competitive nature is alive and well, he was left wanting more.
"I'd really like to have got closer to the podium," admits Aubert. "With the addition of WESS the competition was very tight this year. Conditions were tricky too and I lost some time on a few special tests each day. It was difficult to recover from that but that's the nature of racing — I'll try to do better next year."
Taking time to digest the weekend's events, both riders welcomed the addition of the World Enduro Super Series to this year's race. And as Meo suggests, it's a new vision for Enduro.
"The idea of WESS is very interesting — last weekend was Erzbergrodeo, now we have Classic Enduro in France — it's a really big challenge," explains Meo. "While the Hard Enduro riders excelled in Austria, it was the Classic Enduro riders who were on the top in France.
"As a series, mixing disciplines together like this it means a lot of riders can fight for the title as things will balance out over the year," he concludes. "I think it's a new vision for the sport and can open a lot of doors for the future. I'm excited to watch how the rest of the year goes — there will be surprises for sure."
The World Enduro Super Series continues with round four at Red Bull Romaniacs, Romania on July 24-28.
Watch the Trèfle Lozérien AMV's 26-minute Recap Program on Red Bull TV from Saturday, June 16.
Photo credit: Future7Media
Website: iRideWESS.com
Red Bull TV: redbull.tv/WESS
Instagram: instagram.com/iRideWESS
Facebook: facebook.com/iRideWESS
Twitter: twitter.com/iRideWESS
WORLD ENDURO SUPER SERIES – 2018 SCHEDULE
Rnd 1. Extreme XL Lagares (Portugal) May 11-13
Rnd 2. Erzbergrodeo (Austria) May 31-June 3
Rnd 3. Trèfle Lozérien AMV (France) June 8-10
Rnd 4. Red Bull Romaniacs (Romania) July 24-28
Rnd 5. Red Bull 111 Megawatt (Poland) September 8-9
Rnd 6. Hawkstone Park Cross-Country (England) September 22-23
Rnd 7. Gotland Grand National (Sweden) October 26-27
Rnd 8. Red Bull Knock Out (The Netherlands) November 10