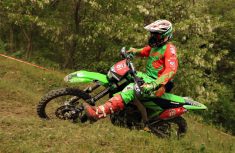 After the long summer break, the European Enduro Championship is now entering it's second half. From 10th to 12th of August, the competition will be held in Skövde/Sweden, where the third of a total of the four events from 2018 is scheduled.
The paddock is centrally located, directly at the Arena Skövde. This is at the same time the place for the two timechecks – the teams do not have to organise an additional support outside.
The three laps start daily from 9:00 a.m., with three special stages to be competed in each case: Two cross tests and a enduro tests, where the finish line is always right next to the starting area.
First time ever in the European-Championship there will be held a prologue on Friday evening.
More than 180 riders are competing in the different classes.
In the overall-championship, the Italian Alessandro Battig currently leads by 14 points ahead of the French junior Hugo Blanjoue. But the KTM rider is highly motivated and prepared to take the lead from his rival Battig.
In a promising position are the Swedes Oliver Nelson and Martin Larsson in their home-competition: Nelson, who in the championship of the four-stroke class over 250 cc is in second position, behind the overall-leader Battig and Larsson, who in the championship of the two-stroke class over 250 cc is placed second behind the Czech Jiri Hadek. Both could benefit from their home advantage and the known conditions.
The guest entrant Anders Eriksson also has a home advantage: The seven-time (!) world champion lives in the region and now starts once in the senior class at the age of 45.
For the riders, teams and fans of the Enduro, the local swimming pool has a special offer directly on site – but the swimming pool is more than just a pool, it is a complete fun pool.
Despite the high temperatures and drought throughout Europe, the competition is not at risk.
The live timing can be found on the weekend at www.nts-timing.se
Here is a webcam with a view of the cross-check: http://www.webcams-skandinavien.de/Schweden/Cam-Skovde-First-Hotel-Billingehus.php
Directly tot he organizing club:
More information and schedules, results and links, there are always up to date and right on the official website:
http://european-enduro.com/