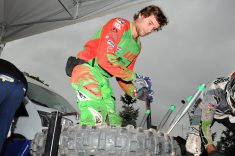 Kawasaki rider Alessandro Battig from Italy won the title in his class on the first day of the European Enduro Championship final in Kielce, Poland!
With a further day victory in the class of the four-stroke machines over 250 ccm, he was able to extend his lead unassailably.
In the remaining two days of competition he will concentrate on winning the title in the overall standings in addition. There, too, the Italian is in the lead of the European Championship and with his second place in the overall standings today, Friday, he has come a little closer to this goal. Although he was beaten on this day by his compatriot, the junior Lorenzo Macoritto, he was able to leave his direct rivals in the championship behind, as the Frenchman Hugo Blanjoue only finished third.
In fact, the nightly rain had bound the dust on the dry meadows and fields somewhat, so that this did not become a visual obstacle. But it was still dry and the two special stages were driven accordingly fast, so that for the best riders the times in the eight tests added up to almost exactly one hour special stage time.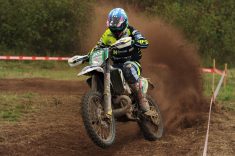 Also Battig's compatriots Maurizio Micheluz and Tommaso Montanari can become premature champions in their cubic capacity class the next day, on Saturday: Micheluz had won the day in the two-stroke class up to 250 cc and extended his lead to a respectable 29 points. With a fifth place he would have secured the title.
Montanari in the four-stroke class up to 250 cc has a similar situation: With his victory on the day, he increased his lead to 23 points and can also celebrate his early title win with a second place on Saturday.
Directly tot he organizing club: http://ktmnovi.pl/europa/
The live-timing oft he event you will find at: http://live.motoresults.pl/
More information and schedules, results and links, there are always up to date and right on the official website:
http://european-enduro.com/