Championship for Micheluz, Montanari and Senior Krywult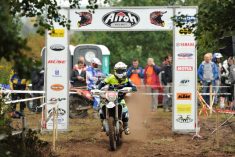 On the second day of the three-day finale of the European Enduro Championship in Kielce, Poland, further drivers were able to secure the title.
The Italian Maurizio Micheluz won the two-strokes up to 250 cc with another day's victory, so far unbeaten the championship. But it is not the first title for the Husavarna rider, who has often been at the top of the podium in recent years.
However, Tommaso Montanari won his first European Championship title in the four-stroke class up to 250 cc: The Italian was beaten by local hero Giezma Maciej in the daily classification, but in the championship the KTM rider stayed ahead of his rival Jonathan Rosse from Switzerland.
The Pole Sebastian Krywult is an old hand in two senses: After 2016, the KTM rider again won the senior class for riders aged 40 and over.
On the last day of this final event there will be a final motocross over seven laps each. It is still about the titles in the overall standings, the three junior-classes and in the womens-class.
In addition, there will be a nation classification with national teams at the finals, where Italy still leads ahead of England and Germany.
Directly to the organizing club: http://ktmnovi.pl/europa/
The live-timing oft he event you will find at: http://live.motoresults.pl/
More information and schedules, results and links, there are always up to date and right on the official website:
http://european-enduro.com/