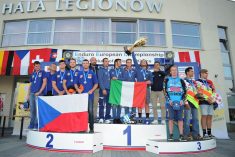 Italy allover
With an overall victory in the final cross, the Italian Alessandro Battig also won the overall championship of all riders at the final of the European Enduro Championship in Kielce, Poland, after his title in the cubic capacity class.
This alone was not enough for the Kawasaki pilot, because his dealer team, the Osselini team, also won the European Championship title, as did the Italian national team – again with Battig in the middle!
Alessandro Battig hadn't even expected to go for the whole championship at the beginning of the season – he only took part in the opening event because it started in his home country Italy. Afterwards his team convinced him to contest for the complete series.
So the Italian anthem sounded even more often at the evening award ceremony.
But for the host Poland, 42-year-old Sebastian Krywult won his second championship title in the senior class.
In the women's singles it was KTM rider Sanna Kärkkäinen from Finland who won her second European Championship title in the class after 2015. She won all heats, exept the last day in the final cross. There she had to let the Sherco-rider Nieve Holmes from England take the victory in front of her on the last day.
Kärkkäinen's compatriot Roni Kytönen was able to secure the title with a triple win in Poland for the juniors under 21 years of age, after the leader of the class, the Italian Claudio Spanu, had already dropped out on the first day due to a technical defect.
The two junior classes E1 and the cubic capacity class E2/E3 were kidnapped to France: The small class was won by Thomas Dubost, who rides in the same KTM team as his friend Hugo Blanjoue. Blanjoue was unlucky in the final, when he got stuck at the start and had to fight his way up from last place. As a result, he lost so much time that he could not win the overall standings of all riders.
At the same time as the final, the national competition was also held: the club teams was won by Sweden, as well as the women's teams.
In the juniors, France dominated (with the two European champions) and the team championship went to Italy for the sixth time.
More information and schedules, results and links, there are always up to date and right on the official website:
http://european-enduro.com/
All results: http://www.fim-europe.eu/events/630