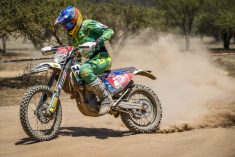 Australia are on the cusp of victory at the 2018 FIM International Six Days Enduro (ISDE) as they take a sizeable lead into the final day of racing in Chile. With just day six of the ninety-third FIM ISDE remaining, Australia's FIM World Trophy team enjoy a seven-minute and thirty-second lead over the United States, with Italy third.
Italy suffer their first defeat of the 2018 FIM ISDE on day five, but hold a comfortable advantage in the FIM Junior World Trophy category over the United States and France. Almost nine minutes in front, Australia have a virtual grasp on a record-breaking sixth consecutive FIM Women's World Trophy victory.
The penultimate day of racing at this year's FIM ISDE offered competitors a new course and new challenges. Taking competitors south and into demanding forestry in a route known as the Peñuelas Lake and Wood, both riders and machines were put through another three-hundred kilometres of challenging Enduro terrain. Those remaining in the competition now only have the traditional day six final Motocross race to finish off this year's gruelling race.
Offering no weakness to their rivals, Australia continued to stamp their authority on the ninety-third edition of the FIM ISDE. Marching ever-closer to their second FIM World Trophy title, they left no one doubting who was in control of the proceedings by topping the standings on day five. With a commanding lead, only the final Motocross race now stands in their way of securing the top step of the podium in Viña del Mar.
Despite putting in another determined performance, the United States were unable to force the Australians into a mistake and had to settle for second. Barring any final-day drama, they look set to claim the runner-up result this year, holding a healthy four-minute buffer over Italy in third.
After a disappointing week in Chile, defending champions France will be happy to see this year's event come to an end. Fourth in the FIM World Trophy classification, the hot, dry and dusty conditions have not favoured them, as Loic Larrieu (Yamaha) explains.
"Unfortunately, it's just not been our year," admitted Larrieu. "The dusty, hard pack terrain and unique special tests have been difficult to adapt to and we've not shown our best."
"Personally, it's been a hard race for me, especially having won the overall in 2017. I was carrying some injuries starting and through a combination of too many crashes, I haven't been able to race like I wanted to."
With Spain fifth, Portugal, the Czech Republic and Sweden round out the top eighth.
In the FIM Junior World Trophy class, the United States finally got the better of rivals Italy, claiming the day five win. Feeling good on the new special tests, the United States pushed hard to reduce the gap to Italy ahead of day six. But with the Italians fighting back during the latter half of the day, they limited their loss and are three minutes and thirty-five seconds clear with the final Motocross remaining.
Putting the brakes on Chile's challenge for the final step of the podium, France answered back having lost out to them during the last two days. Third fastest on the penultimate day, France keep Chile one-minute and thirty seconds behind them entering day six. Knowing all is still not lost, expect Chile to lay everything on the line in the hope of a possible debut FIM ISDE podium result, on home soil. With Australia fifth, Sweden and Germany are sixth and seventh respectively.
Easing back as they race towards a recording-breaking sixth consecutive FIM Women's World Trophy victory, Australia still claimed victory on day five. Beating closet rivals the United States by less than one-minute, the trio of Tayla Jones (Husqvarna), Jessica Gardiner (Yamaha) and Mackenzie Tricker (KTM) have a commanding nine-minute lead. Now eleven minutes behind the United States, Spain are third, with Sweden fourth.
Day two of the FIM Vintage Trophy saw Germany's Jens Oestreich (SWM) top the '76 class. Germany's Jens Bossdorf (SWM) leads the '79 class over Rolf Nickolai (DEU -Kramer), while Sven Roth (DEU – Kramer) is the overall leader of the '82 category. Germany's Swen Schiller (Kram-It) is best of the Evo 86 riders.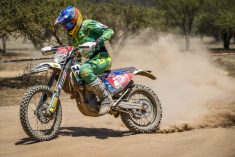 Racing to his fourth overall day win, Daniel Milner (AUS – KTM) once again set the benchmark in this year's FIM ISDE. The Australian is now almost ninety seconds clear of closest rival Taylor Robert (USA – KTM) in second, with Daniel Sanders (AUS – Husqvarna) thirty-three seconds behind in third.
In the Enduro 1 category Italy's Davide Guarneri (Honda) claimed the day win over Spain's Victor Guerrero (Yamaha) and Andrea Verona (ITA – TM). However, despite suffering some trouble on day five, Verona still tops the Enduro 1 standings from Guarneri and Guerrero.
Aiming for a clean sweep of class day wins, Robert was again fastest in Enduro 2, winning four of the six special tests. Over five minutes clear of Steward Baylor (USA – KTM) in second, Robert can enjoy his final day of racing in Viña del Mar.
Arguably the standout performer in this year's FIM ISDE, Milner added the Enduro 3 class win to his overall victory on day five. Two minutes clear on Sanders in second, the KTM rider will aim for a trouble-free Motocross race to sign off his week in style.
The ninety-third edition of the FIM ISDE will conclude with the traditional day six Motocross, in Viña del Mar.