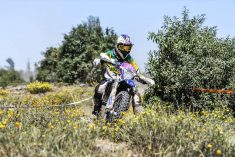 No change at the top of the FIM International Six Days Enduro (ISDE) as Australia continue to lead the way in Chile. Day four sees Australia extend their advantage over second placed United States to almost six minutes.
Italy remain untouchable in the FIM Junior World Trophy category recording their fourth consecutive day win, while Chile impress with the third fastest time. Australia set the pace in the FIM Women's World Trophy team competition to extend their race lead to eight minutes.
The fourth day of competition at the ninety-third edition of the FIM ISDE was another punishing one for competitors. With over three-hundred kilometres of riding in hot and dusty conditions on the same course used for day three, many weary bodies were relieved to reach the end of day four in the knowledge that a new loop would await them for day five.
Once again setting the benchmark in this year's FIM ISDE, Australia secured yet another comfortable day win. Fastest from the outset, they continued to confidently build their advantage throughout the long and physically demanding day of racing and will start the penultimate day with an almost six-minute advantage over the United States.
Although unable to answer the pace of their rivals, moral remains high within the United States squad and as Steward Baylor (USA – KTM) explains there is still a lot more racing to come.
"We're not giving up just yet," asserted Baylor. "Australia had us today, but we're still giving it our all – there's a long way to go."
"The conditions are unique and I feel Chile has certainly stamped its character on this year's FIM ISDE. Every special test is different and requires a lot of focus and race craft to get right. It's difficult out there, but we're keeping it fun."
Ending day three one-minute and thirty seconds behind the United States, Italy maintain third overall – albeit three minutes and twenty seconds down. However, with France less than three minutes adrift in fourth, they can not afford to relax.
"With how difficult the riding is, positions are still quite tight in the overall standings," told Giacomo Redondi (ITA – Honda). "Yesterday Alex Salvini (Husqvarna) had some problems and lost a lot of time. Tomorrow it could be one of us, so we can't afford to relax. France are always within striking distance – we don't want to lose the podium at this point in the race."
Spain complete the top five and enjoy an eight-minute lead over Portugal with two days remaining.
Steadfast at the top of the FIM Junior World Trophy classification, Italy are beginning to look like clear favourites for this year's title. Claiming their fourth day win, Andrea Verona (TM) and Matteo Cavallo (Beta) impressed on Chilean soil, finishing the day in sixth and seventh overall respectively.
The United States sit second overall, less than four minutes and thirty seconds behind the Italians, with hope that day five will deliver some surprises. The battle for the final step of the podium continues to heat up as Chile beat France for the second day running. Third on day four, Chile have closed to within one-minute of their rivals, setting up an exciting end to the proceedings. Australia and Sweden round out the top six.
There was no change at the top of the FIM Women's World Trophy category as defending champions Australia stretched their lead to eight minutes over the United States. Spain continue to hold onto third, while France and Sweden are fixed in fourth and fifth respectively.
In the individual category, Australia's Daniel Milner (KTM) was once again impressively fast in the dusty and rocky conditions, securing a comfortable forty-second margin of victory over teammate Daniel Sanders (Husqvarna), with Taylor Robert (USA – KTM) six seconds back in third. Milner's day four victory pulls him almost one-minute clear of Robert in the overall standings, with Sanders third.
Claiming his second Enduro 1 class day win, Junior rider Verona extends his overall lead over Davide Guarneri (ITA – Honda), with Spain's Victor Guerrero (Yamaha) overtaking Ryan Sipes (USA – Husqvarna) for third.
Collecting his fourth Enduro 2 victory, Robert remains the rider to beat and comfortably leads with two days remaining. A strong ride from Baylor builds him a thirty-six second cushion over France's Loic Larrieu (Yamaha) in third.
Keeping things under control in the Enduro 3 class, Milner's day four win sees him now lead Sanders by one-minute and seventeen seconds. Finding his feet in the Enduro 3 category, Redondi moves past home favourite Ruy Barbosa (CHL – Husqvarna) to take third.
Day four of the FIM ISDE also marked the start the FIM Vintage Trophy. Battling against both the Chilean heat, a rough and demanding course and two special tests, Germany's Swen Schiller (Kram-It) recorded the overall fastest time of the ten class finishers, also topping the Evo 86 class. Jens Oestreich (GER – SWM) finished fastest in the '76 class, Germany's Jens Bossdorf (SWM) topped the '79 class with Chilean rider Rodrigo Jara (Honda) winning the '82 category.
With four tough days of racing now complete, competitors in the ninety-third FIM ISDE are beginning to see the home stretch come into sight with just two days remaining. The penultimate day marks the final day of traditional timecard Enduro racing, before concluding with the Motocross race on Saturday 17 November in Viña del Mar.