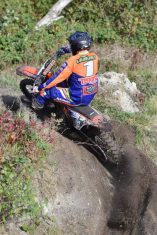 Stichting Enduro & Offroad Motorsport Houtigehage i.s.m. MC Sportlust en Piepercross Westerkwartier organiseren rondom het Piepercross circuit te Opende (Gr.):
Zaterdag 13 april: 's ochtends: Brommer cross op ingekort parcours.
Zaterdagmiddag: MC Sportlust stelt Cross Country parcours beschikbaar voor rijders die recreatief deze route van ca 8,5 km willen rijden, of hun vaardigheden willen trainen verbeteren, maar hierin zit GEEN wedstrijd element en geheel op eigen risico.
Zondag 14 april: 's ochtends: KNMV Jeugd Enduro. 1 proef, ca. 8 ,5 km totale route.
Zondagmiddag: 4-uurs KNMV cross country voor solorijders en team (2 man).
Jeugd enduro krijgt ook dagstartklasse, hiervoor dienen rijders zonder basissport of wedstrijd licentie vooraf een daglicentie bij de KNMV te regelen (kan niet op dag zelf).
Hetzelfde geldt voor de crosscountry waar een basissport of wedstrijd licentie vereist is, of ook hierbij geldt dat vooraf een daglicentie geregeld kan worden.