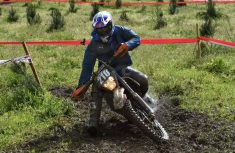 Junior Kouble wins the first day
The only 21-year-old Krystof Kouble from the Czech Republic won the first day at the start of the European Enduro Championship in Gois, Portugal.
From the first stage on, the KTM rider took the lead and extended this lead to 22 seconds until the end. After a slip-up in the enduro test his lead had shrunk a little, but overall all participants had to struggle more with the weather conditions than with the competition. Heavy rain and hailstorms had made the track muddy and slippery and had led the organizers to some detours.
The second of the day, the Finn Eemil Pohjamo: took on more than 4,000 km of the journey: The TM-pilot on the 300 two-stroke fought his way up to second place after the first lap and didn't give up after a crash in the crosstest. The third rider of the day, the Swede Albin Elowson, had no chance to get close.
Fourth place went to an even younger rider: The Swede Max Ahlin with the small 125cc machine also won the biggest class in this European Championship season opener.
The Czech rider Zuzana Novackova won the women's race: Not because she was the fastest in the special stages, but because she had collected the fewest penalty minutes on the demanding track: In the end she had a lead of over eight minutes over Hanna Berzelius from Sweden, who is so much faster in the special stages.
All in all, at the end only 13% of the riders quit the competition before the end.
For those who can't be there themselves, there is live timing:
http://www.timingpro.com/scores2_mysql.php?ID_PROVA=250
More information and schedules, results and links, there are always up to date and right on the official website: http://european-enduro.com/