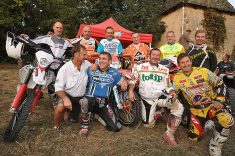 The Acerbis Grand Prix of Italy, which will be held in Rovetta from June 21st to 23rd, will also see the celebration of the 100th anniversary of the famous 'Valli Bergamasche', an absolutely legendary race in the history of enduro.
But 2019 also marks the 30th anniversary of the Enduro World Championship, which took over from the European Championship in 1990.
On this occasion ABC Communication has taken the initiative to gather together many of the riders from past years who made their mark in the history of the World Enduro.
With the endorsement of MC Bergamo, the FIM and Acerbis, there are so far thirty 'old but gold'(!) riders who will meet in Rovetta on Friday 21 and Saturday 22 June for the 'Legends Race'.
These multi-time world champions stars will appear during Friday's Akrapovic Super Test near Clusone, and again on Saturday from 15:00 where they will be able to compete either on their vintage motorcycles or on contemporary machines.
ABC Communication have teamed-up with Daniele MADRIGALI, former manager in the 90s, to manage the sporting aspect and a field of mostly Italian stars will be ready to enjoy this special challenge.
Giorgio GRASSO, Paolo FELLEGARA, Davide TROLLI, Giovanni SALA, Dario CROCI, Mario RINALDI, Giuseppe GALLINO, Alessio PAOLI, Tullio PELLEGRINELLI, "Chicco" MURAGLIA, Jarno BOANO, Gionni FOSSATI, GianMarco ROSSI, Stefano PASSERI to name a few. There will also be several other nationalities represented through former top riders, such as: Laurent PIDOUX (F), the JOHANSSON brothers (S), Bohumil POSLEDNI (CZ), Alfons HOEVERS (NL), Dany WIRZ (CH), Vesa KYTONEN (SF), David KNIGHT (GB), Jeff NILSSON (S)… and seven-time World Champion Anders ERIKSSON! Other riders are expected like Kari TIAINEN, Bill ANDERSSON, Uwe WEBER, Paul EDMONDSON and maybe even a certain Stéphane PETERHANSEL who would be delighted to join his former rivals if his schedule allows!
Entries are still open and we expect to see more and more legends wishing to be a part of this special one-off anniversary weekend.
The Acerbis GP of Italy promises to be exceptional in every way with a host of events running in parallel with the EnduroGP race, and a gathering of legendary riders who have helped this sport to become what it is today.