FREEMAN Opens the Gap!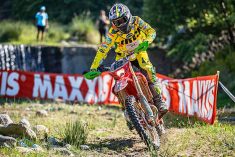 The stars of EnduroGP had to cope with overwhelming heat on Day 1 in Greece, despite a huge storm on Friday night before the Super Test. These demanding conditions made their mark on both man and machine, as was proven when Alex SALVINI (I – Honda) suffered a shoulder injury. Despite the difficulties, the LAMS Moto Club did a great job with the course and it gave us a great day of racing with many twists and turns right up until the final test.
We'll start with the premier category, EnduroGP, where SALVINI was looking to be one of the favouites at the beginning of the day. The Honda RedMoto rider was in the fight with Matteo CAVALLO (I – Sherco) for 3rd place overall before he took a heavy hit on his shoulder in the Champion Lubricants Enduro Test. It was a similar story for Christophe CHARLIER (F – Honda RedMoto), on fire at the end of the day, and closing in on CAVALLO before a big mistake on the final test….
There were no such problems for the British duo of Steve HOLCOMBE (GB – Beta) and Brad FREEMAN (GB – Beta Boano). The former, who seems to be largely recovered from the debilitating virus he'd been in the grip of since the German GP, was running well at the start of the day and held a 12 second advantage at the end of the first lap. Meanwhile FREEMAN initially found it tricky to 'open the road', but the Beta Boano rider quickly regained control of the EGP class to pull out an amazing 39 second lead on HOLCOMBE by the end of the day.
Behind these two top guns, Matteo CAVALLO (I – Sherco) achieved his first career podium in EnduroGP. He fought well to see off attacks from OLDRATI (I – Honda RedMoto) and REDONDI (I – Husqvarna), in addition to taking advantage of the misfortunes of SALVINI and CHARLIER. It was a nice reward for the 2018 Junior World Champion who did not expect to get on a EnduroGP podium so soon!
Neck and neck for a long time, OLDRATI ended up getting the better of his compatriot REDONDI and therefore took 4th place and 13 points, while Loïc LARRIEU (F – TM) had to settle for 6th place and Eero REMES (SF – Yamaha) just managed a place in the Top 10.
E2 Brings the Madness!
The class which saw the most twists and turns was Enduro 2! SALVINI had been establishing himself as a potential winner before he fell and injured his shoulder… And at that time, the category win was all to play for between REDONDI, LARRIEU and CHARLIER, all ready to take advantage of the 2013 World Champion's unfortunate DNF. CHARLIER made an impressive comeback to take the lead two tests before the end of the day. But the Corsican crashed in the Champion Lubricants Enduro Test and damaged his bike. He managed to finish the Technomousse Xtreme Test, but he was unable to get through the last test of the day and had to give up his first victory of the year to a very consistent REDONDI…
For his part, LARRIEU finished 2nd despite a big scare in the last lap and it was Chile's Benjamin HERRERA (CL – Beta) who took advantage of the misfortune of SALVINI and CHARLIER to finally climb onto the E2 podum in front of Eero REMES (SF – Yamaha) and Hugo BLANJOUE (F – KTM). This 'middle weight' class remains thrilling and full of surprises.
In E1, Brad FREEMAN remains unbeaten in front of Matteo CAVALLO and Thomas OLDRATI. Davide GUARNERI (I – Honda RedMoto) had to settle for 4th place and Kirian MIRABET (E – Honda) completed the Top 5…
In E3, Steve HOLCOMBE was back on the top step of the podium after he lost out to his rival, Danny MCCANNEY (GB – TM), in Spain. The factory TM rider, struggling with a hand injury, still clung on to 2nd place, just in front of Anthony GESLIN (F – Beta).
Unbeatable VERONA!
In the Juniors, Andrea VERONA (I – TM) has not yet given any chances to his rivals, and today was no different as he scored victory 47 seconds ahead of his nearest competitor. The talented Italian remains unbeaten so far this season.
However, the fight for second place was very intense and interesting between Enric FRANCISCO (E – KTM), Ruy BARBOSA (CL – Husqvarna), Theo ESPINASSE (F – Sherco) and Roni KYTONEN (SF – Husqvarna). After putting in another solid performance it was the Spaniard who took the second step on the podium and 17 points, despite an amazing recovery from the Kytönen Husqvarna Motorsport rider, who took his first Junior podium.
BARBOSA, meanwhile, had to settle for 4th place despite a very speedy start to the day, the Chilean finished 56 hundredths of a second ahead of ESPINASSE.
VERONA also remains undefeated in J1, today joined on the podium by KYTONEN and ESPINASSE while FRANCISCO pocketed a 5th victory in 2019 at the expense of BARBOSA and Jack EDMONDSON (GB – Sherco)…
In the Champion Lubricants Enduro Open World Cup, David KNIGHT (GB – TM) is only one victory away from the Open Senior Cup, having won his 7th race day right in front of the friendly Austrian duo of Werner MÜLLER (KTM) and Hans Peter MUSIL (KTM)!
In Open 2-Stroke, Gonçalo REIS (P – Gas Gas) is also a step closer to the cup, taking his 6th victory of 2019 ahead of the Greek rider George PISIMANIS (Yamaha), while the Open 4-Stroke was turned on its head with a 100% Greek podium following the retirement of title contender Mathias VAN HOOF (B – Beta). It was therefore Ioannis CHASAPIS (KTM), Panagiotis ZAFEIRIOU (Suzuki) and Konstantinos NIKIAS (Husqvarna) in front of their home crowd.
This first day of the Maxxis Grand Prix of Greece gave us plenty of excitement and unexpected results! Tomorrow will be another tough day for everyone, not least CHARLIER and SALVINI, who will attempt to ride tomorrow despite being beaten up by their crashes. Let's see what surprises Day 2 has in store for us…
See you tomorrow morning for another day under the sun in the Greek heat!
What They Said:
Brad FREEMAN: "The start of the day was not easy with the big storm that came yesterday afternoon. It was not easy for me to open the tests and Steve took advantage. But I managed to find a good feeling on the second lap and I could finally ensure another good victory. I'm very happy with it but I really want to stay focused."
Steve HOLCOMBE: "Even if I'm a little bit frustrated to have lost the win today, I'm still very happy with this second place! It must be said that a month ago, I did not know if I could participate in this race, so I'm really happy to be here and running at the front. I know what I need to work on and I'm looking forward to tomorrow to try and get closer to Brad!"
Giacomo REDONDI: "It's a bit of an unexpected victory! SALVINI was very strong and I'm really sad for him that he got hurt … Then, CHARLIER pulled an amazing time in the Enduro Test and I really thought he would go for the victory but had bike issues. We can't predict anything in this sport, and especially in the E2 category. Every top rider has had at least one day of bad luck and I hope that now, the problems will all leave us alone and we will be able to all fight together! But today I took the victory and this allows me to get closer to SALVINI!"
Christophe CHARLIER: "I'm really upset, but in this sport things like this can happen. I fell in the last Enduro Test and when I tried to restart I heard a big noise. Then the power returned in the Xtreme Test, but before the last test I couldn't start my bike. It's a shame because I was so close to my first win this year."