KNIGHTER Heading for Another Title?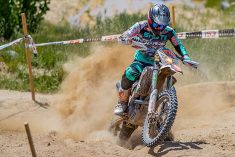 The fourth round of the brand-new Champion Lubricants Enduro Open World Cup will take place this weekend in Serres. This Maxxis GP of Greece will be very interesting to follow as each category will be hard fought, and there's a potential title in store for David KNIGHT (GB – TM) in Open Senior. Let's take a look at how things are shaping up…
'KNIGHTER' only needs two more wins to become the first winner of the Open Senior Cup! But he will have to avoid mechanical problems and resist a charge from his closest competitors. Andrea BELLOTTI (I – KTM) is currently 3rd in the standings but building confidence with every passing round. And Werner MÜLLER (AUT – KTM) is back after having missed the Iberian tour, he could worry the Manxman as he came close to the triple World Enduro Champion at the opening round in Germany. Do not forget either Hans PETER MUSIL (AUT – KTM) who wants to get his first World Championship podium just like the Yamaha Johansson rider Patrik ANDERSSON (S)! A strong contingent of Greek riders will also be present – Antonis MAKARONAS (KTM), Minos KONIDIS (TM), Eustratios KONIDIS (KTM), Apostolos KAZAKIS (KTM) and Nikolaos MANOLOGLOU (Beta) will be ready to face the best riders in this category for veteran riders…
Will VAN HOOF Run Away With it in Open 4-stroke ?
As for the Open 4-Stroke class, only Belgium's Mathias VAN HOOF (Beta) will make the trip to Greece! This will be a great opportunity for him to collect two very valuable victories in the race for the World Cup, especially after he had to miss the Spanish GP due to commitments in the Belgian Championship. However, VAN HOOF will face an armada of Greek riders who know the terrain really well. So keep an eye out for Christos PAPATHEODOROU (Honda) and Ioannis CHARALAMBOUS (Honda) who will aim for top results. Without forgetting their compatriots Christoas SAMATIALIS (KTM), Panagiotis ZAFIRIOY (Suzuki) and Xeno ANGELUS (Yamaha).
Finally, in Open 2-Stroke, the current leader Gonçalo REIS (P – Gas Gas) has a chance to take a step closer to the title, with a view to winning it one week later in the mecca of Enduro, Rovetta (Italy)! But he too will be joined by wildcards Dimitrios KARAKOUSIS (GR – Beta) and George PISIMANIS (GR – Yamaha) who will hope to topple the Portuguese rider.
The Champion Lubricants Enduro Open World Cup is gearing up for its fourth round this weekend, and these three categories will bring Enduro fans in Serres even more action over the three special tests created by the LAMS motoclub, and they may even witness another title for KNIGHT, 14 years after winning his first major title in the same town…