Welcome to the Mecca of Enduro!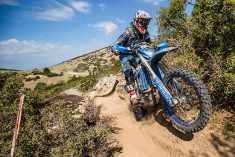 After a tough Grand Prix in Greece, the EnduroGP caravan rolls on for another race weekend, this time in Rovetta for the legendary 'Valli Bergamasche'…
And just like Serres in Greece, it is for 4 years since we last had a World Enduro race in Rovetta. This lovely town in the Lombardy region has a lot to offer…
After four seasons hoping to host another EnduroGP round, the Moto Club Bergamo decided to go all out and combine this GP with the 43rd edition of the famous 'Valli Bergamasche' – something which has thrilled riders and fans alike! Club President Giuliano PICCININI, had no trouble convincing the Italian Motorcycle Federation (FMI) to agree to this exciting combination.
More than 200 Riders!
On the racing side, the Moto Club Bergamo has still concocted a course with lots of typically tricky sections… About 50 kilometers long, the route will offer all the difficulties of a 'Valli Bergamasche' race! The Champion Enduro Test will be long, very technical and will be located in nearby Clusone. While the all-natural Technomousse Xtreme Test will be characteristic of the Bergamo region and will be located in Cerete. In addition to this, the riders will enjoy two Maxxis Cross Tests, one in Onore and the other in Fino del Monte! Friday Night's Akrapovic Super Test will see a packed crowd and a lot of fun and will be located in Clusone. Meanwhile, the paddock will be settled on the Piazzale Scuole in Rovetta, next to the summer training centre of the professional football team of Atalanta Bergamo!
A small town in Lombardy, Rovetta has a population of around 4,000 and is located very close to Lovere, host city of the last Italian Grand Prix organised by the Moto Club Bergamo in 2010. Rovetta is only 40 kilometres from Bergamo and 100 kilometres from Milan. The province of Bergamo is where many people believe the practice of Enduro was born. And it is certainly deeply embedded in the history and DNA of the Maxxis FIM World Enduro Championship. There's no doubt the Italian riders such as Alex SALVINI (Honda RedMoto), Thomas OLDRATI (Honda RedMoto), Matteo CAVALLO (Sherco), Andrea VERONA (TM), Davide GUARNERI (Honda Lunigiana), Giacomo REDONDI (Husqvarna) and Davide SORECA (Honda Lunigiana) will be keen to represent their nation in front of their fervent tifosi (fans)…
Throughout the weekend, ABC Communication will be celebrating the 30th anniversary of the World Championship with a 'Legends Race' on Friday night at the Akrapovic Super Test and again on Saturday evening. And they'll be plenty of other entertainment too, as the MC Bergamo have organised a freestyle display, DJ sets, and the "RedBull Epic Rise". With more than 200 riders signed up for the Acerbis Grand Prix of Italy, it proves that Enduro in Italy remains as popular as ever, not only with riders but also with fans as we're expecting bumper crowds from all over Europe.
FREEMAN, SALVINI & REDONDI Up Against it?
Last weekend's Greek GP shook up the championship and its riders, with Brad FREEMAN (GB – Beta Boano), Alex SALVINI (I) and Giacomo REDONDI (I) all ending the race weekend battered and bruised!
We already know that SALVINI dislocated his right shoulder and that he will have to seriously grit his teeth in front of his home fans. Meanwhile, FREEMAN, despite taking the upper hand in EnduroGP standings – now 19 points ahead of Steve HOLCOMBE (GB – Beta) – could find that the shoulder injury he sustained in Greece will have a major impact on his performance in Rovetta! And no doubt that the likes of HOLCOMBE, still recovering from a lengthly virus, Danny MCCANNEY (GB – TM), Loïc LARRIEU (F – TM), Thomas OLDRATI (I), Eero REMES (SF – Yamaha), Matteo CAVALLO (I) and Christophe CHARLIER (F – Honda RedMoto) will want to make the most of any chance to beat FREEMAN.
This is especially important for HOLCOMBE and MCCANNEY, who are his closest rivals, who would love to take victory over the Beta Boano rider ahead of the long summer break.
For their part, SALVINI and REDONDI – who has suspected broken ribs – will seek to limit the damage and keep their places in the Top 10 of the EnduroGP category.
One thing is for sure, there will be plenty of drama among the best riders in the world! Also note the return of Christophe NAMBOTIN (F – GasGas) and his teammate Alex SNOW (GB – GasGas), both will be wanting a strong result after missing the last few rounds.
It's a similar story in Enduro 1 where CAVALLO, OLDRATI and Davide GUARNERI (I – Honda Lungiana) will seek to take advantage of the injury of FREEMAN to pick up more points before the last two GPs of the season. Czech Republic's Patrik MARKVART (KTM) will certainly want to consolidate his place in the Top 5 in the small capacity class, but he will have to face a resurgent Kirian MIRABET (E – Honda), Andreas BEIER (KTM) and fast local riders such as Rudy MORONI (KTM), Gianluca MARTINI (Beta), Tommaso MONTANARI (KTM), Alessandro MAYR (Husqvarna) and Simone RAVELLI (Beta).
The Big Return of MEO!
Over in Enduro 3, Danny MCCANNEY is only 12 points behind the leader Steve HOLCOMBE and he proved once again in Serres that the factory Beta rider is not unbeatable! The rider from the Isle of Man will most certainly want to reduce the gap a little further.
We should again witness a good duel for third place between the French pair, Anthony GESLIN (Beta) and David ABGRALL (Beta), but this time, they will be joined by riders like Manuel MONNI (I – Beta), Alessandro BATTIG (I – Gas Gas), Deny PHILIPPAERTS (I – Beta) and Luca MARCOTULLI (I – Gas Gas). The last minute return of Gas Gas riders Christophe NAMBOTIN (F) and Alex SNOW (GB) could also shake up the E3 class, as the former especially will be keen for a podium place.
Once again, Enduro 2 will be THE category to follow after EnduroGP… while SALVINI still holds the leader's plate, his dislocated shoulder could prevent him from taking top spot at home in Italy. Ready to take advantage of the Honda rider's misfortune will be CHARLIER, LARRIEU, REMES and Benjamin HERRERA (CL – Beta).
In the 'battle of the bruised', Giacomo REDONDI will also grit his teeth to try and take valuable points, and possibly a podium, at home.
This Acerbis GP of Italy will also witness the return of the five-time World Champion Antoine MEO (F – Honda RedMoto)! 'The Alligator' could well get in amongst these six aforementioned riders.
Antoine BASSET (F – Husqvarna), absent in Greece, Hugo BLANJOUE (F – KTM), Joe WOOTTON (UK – Husqvarna), Edward HÜBNER (D – KTM) will want to defend their place in the Top 10 of this highly competitive category…
The Italians, led by Davide SORECA (I – Honda Lungiana), Nicolo MORI (I – Beta), Maurizio GERINI (I – Husqvarna) and Jacopo CERUTTI (I – Husqvarna) will be keen to shine in front of their fans!
Also noteworthy is the participation of Christian BROCKEL (D – KTM) and Eemil POHJOLA (SF – TM).
Can KYTÖNEN & FRANCISCO Keep Up?
It has happened! Andrea VERONA (I – TM) is no longer undefeated after being forced to give Finland's Roni KYTÖNEN (Husqvarna) the win on Sunday in Greece! That takes the weight off the shoulders of the factory TM rider, who was on a 7-out-of-7 winning streak, but the Italian is still the big favourite for the World crown…
With the impressive performances of KYTÖNEN and Enric FRANCISCO (E – KTM), who relegated VERONA to 3rd place on Sunday in Greece, the question is; will these two riders be able to keep pace in Italy, especially as 2017 Youth World Champion will riding with the support of his fans.
Other riders would love to prove they can also beat the formidable VERONA, those such as Théo ESPINASSE (F – Sherco), Ruy BARBOSA (CL – Husqvarna), Jack EDMONDSON (GB – Sherco) and Antoine MAGAIN (B – KTM) all have plenty of speed and talent.
In Junior 1, KYTÖNEN will certainly try to repeat his feat and beat VERONA again, while MAGAIN and Thomas DUBOST (F – KTM) will try to follow in their Finnish rivals' footsteps.
In Junior2, FRANCISCO will try to increase his gap on the chasing pack but he will have to hold off the likes of Jack EDMONDSON, Leo LE QUERE (F – Sherco), Till DE CLERCQ (F – Husqvarna), Ruy BARBOSA and Krystof KOUBLE (CZ – KTM).
Finally, the 125cc Youth category is back in business in Italy after a round off in Greece. Home favourite Claudio SPANU (I – Husqvarna) will have to counter the attacks of Hamish MACDONALD (NZ – Sherco) who returns almost fully fit after his collarbone injury in Spain. Not to mention compatriot Matteo PAVONI (I – Beta Boano) who has raced in Greece in the Junior class and should be fresher than his opponents…
Nathan BERERD (F – Husqvarna) and Sergio NAVARRO (E – Husqvarna) will want to shine after having had a taste of the podium already this year. As will Hugo SVARD (SF – Husqvarna) who still hasn't been 'on the box' in 2019!
This Acerbis Grand Prix of Italy should be one of the best, where the Italians will be motivated and where the celebrations will be all out for the 30th anniversary of the World Championship! See you on June 21st, 22nd and 23rd in Rovetta, in the mecca of Enduro for the 5th Grand Prix in the 2019 Maxxis FIM Enduro World Championship. And don't forget to watch the 'Legends Race' where around 30 former World Champions will meet to add to the show and pay tribute to this beautiful sport!
Practical Information:
– Rovetta (Province of Bergamo);
– 40 km from Bergamo, 100 km from Milan;
– Friday 21 June: Super Test Akrapovic from 18:00 CET
– Saturday 22 & Sunday 23 June : Start 09:00, Finish after 16:00;
– Organisation: Moto Club Bergamo;
– Websites: www.endurogp.org & www.motoclub.bergamo.it
– Circuit: 50kms – 4 laps;
– Free Entry;
– Airport: Milan Malpensa – Milan Bergamo (around 110 km)
– GPS Points:
– Paddock: 45°53'19.6″N 9°58'47.5″E
– Super Test: 45°52'30.5″N 9°57'07.8″E
– Xtreme Test: Start: 45°50'38.6″N 10°00'05.5″E – Finish: 45°50'40.7″N 10°00'34.9″E
– Cross Test 1: 45°53'07.6″N 10°01'23.9″E
– Cross Test 2: 45°53'45.0″N 9°59'39.3″E
– Enduro Test: Start: 45°52'30.5″N 9°57'07.8″E – Finish: 45°51'47.2″N 9°57'19.4″E